F1: Mexico City Circuit Favors Ferrari (NYSE:RACE) This Weekend
This F1 season only has 3 races left to run, and Sebastian Vettel is running out of chances to deny rival Lewis Hamilton a 4th world championship title.
Mr. Hamilton will be all out to clinch his 4th world title at the Mexican Grand Prix this weekend, but  it is expected to be 1 of the best races of the year for rival Ferrari's (NYSE:RACE) Sebastian Vettel and Kimi Raikkonen.
Mr. Hamilton and the MercedesAMG team have been fearing the Autodromo Hermanos Rodriguez for some time, believing that it is a track not suited to their cars where they will struggle.
Mr. Vettel will have to remain ice-cool and full on if he is to stand a chance of arresting Mr. Hamilton's momentum in what remains of the Y 2017 title race.
The secret is not the layout it is the location of the track.
At sea level, it would be a typical 'low-downforce' layout, where teams trim the wings back to ensure maximum speed on the long straights.
But Mexico City lies at an altitude of 7,400ft and the thin air means the wings of an F1 car produce less down-force.
So despite the long straights, teams actually run their cars in maximum downforce trim, as they would in Monaco and Hungary.
Which team dominated at those 2 races?
Ferrari.
Which team struggled?
Mercedes.
Ferrari are going into a race where they could have inflicted maximum damage on Mr. Hamilton.
How It Looks
Lewis Hamilton only needs to finish 5th in Mexico to win the world title, even if Sebastian Vettel wins the race
If Mr. Vettel comes 2nd in Mexico then Mr. Hamilton would only need to finish 9th
If Mr. Vettel finishes 3rd or worse in Mexico then Mr. Hamilton is the world champion, even if he fails to finish
The track on which the Y 2017 season is likely to reach its denouement is, unfortunately, "a bit so-so", as Mr. Vettel puts it.
It is an updated version of the magnificent track at the same location that hosted Formula 1 from Y's 1986 to 1992.
But all of the real challenges have been taken out by a re-profiling of Esses, and turning the track right before the daunting, banked Peraltada corner into a section that twists through a baseball stadium.
What Mexico's track lacks in grandeur, it makes up in atmosphere.
The stadium is packed with enthusiastic local fans, chanting and cheering for their hero Sergio Perez of Force India, and as it is located next to the paddock, it is hard to escape the 'Noise'.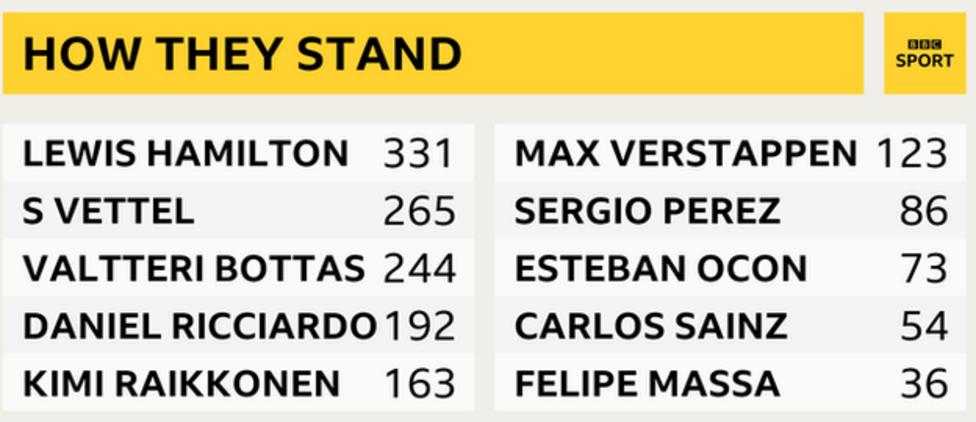 Like the Brazilian city of Sao Paulo, where the next race on the calendar will be held, Mexico City is rough around the edges, a sprawling metropolis with terrible traffic, while certain areas have a distinct edge.
Mr. Hamilton pointed out in Austin last weekend, "Mexico, you've got sombreros, you've got great music, there's real culture."
"The people love their tequila. Every Mexican I've met, they're always smiling, so it's always a great time.
"I do a bit of my Winter training in Mexico, beautiful place. The city… it's quite breathtaking just how big the city is and how many people are there. Driving into that arena that has that huge grandstand and it's always full, from the bottom to the top."
It looks great on television, too. you see the verdant park the track is in, and the spectacular Popocatepetl volcano forming part of the backdrop.
This F1 race is a tourist advert for the Mexican government, which funds the race very well.
Symbol
Last Trade
Date
Change
Open
High
Low
Volume
 

NYSE:RACE

114.64

24 October 2017

0.93

114.72
115.53
114.51
331,048
HeffX-LTN Analysis for RACE:
Overall
Short
Intermediate
Long

Bullish (0.25)

Bullish (0.37)

Bullish (0.27)

Neutral (0.12)
Stay tuned…
The following two tabs change content below.
HEFFX has become one of Asia's leading financial services companies with interests in Publishing, Private Equity, Capital Markets, Mining, Retail, Transport and Agriculture that span every continent of the world. Our clearing partners have unprecedented experience in Equities, Options, Forex and Commodities brokering, banking, physical metals dealing, floor brokering and trading.