F1: Ferrari's (NYSE:RACE) Vettel Must 'Hook it Up' Sunday to Keep Champ Hopes Alive
$RACE
Suzuka Circuit Details
Ferrari (NYSE:RACE) returns to the iconic Suzuka circuit, and it is a critical 1 for both driver and constructors' championships, with just 5 races left in Y 2018's schedule.
Below are some Key facts and figures related with the Japanese Grand Prix
Single Lap distance: 5.807 km
Total laps/distance: 53 laps / 307.471 km
2017 Pole: Lewis Hamilton MercedesAMG 1 min 27.319 secs.
2017 Winner: Lewis Hamilton
Circuit Characteristics
Suzuka boast the unique figure 8 layout with an overhead intersection.
The circuit layout has not been altered since its completion back in Y 1962. The 1st half of the track is purely technical, characterized by complicated corners and the 2nd half of the track about speed, comprising a combination of slow, medium, and fast corners.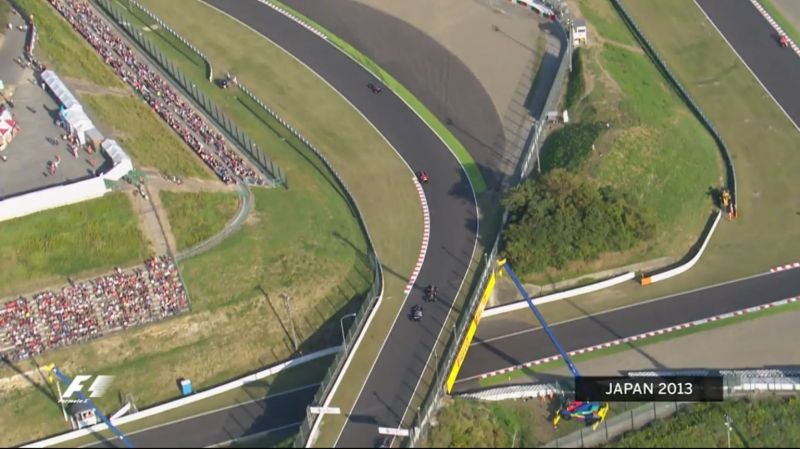 Race Records
Race lap record: Kimi Raikkonen in Y 2005, when driving McLaren 1:31.540
In the current driver line up, both Messrs Hamilton and Vettel have won 4X each in Japan. Other winners in the current line up are Fernando Alonso (Ys 2006 and 2008) and Kimi Raikkonen (Y 2005).
MercedesAMG have won the last 4 Japanese Grands Prix, and Ferrari's last victory was in Y 2004 when Michael Schumacher won.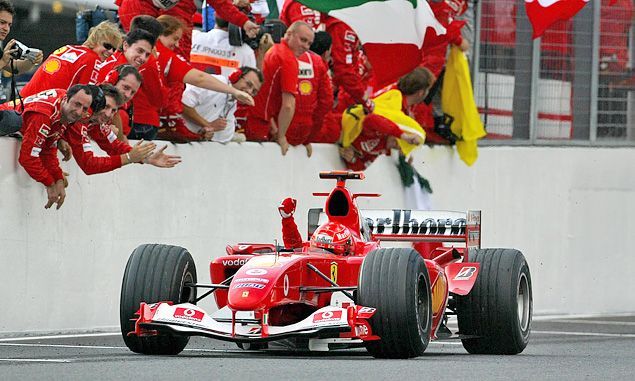 Critical Statistics
In 29 races happened at Suzuka, the winner came from the front row on 25X, including 14 from the Pole. The exception being Mr. Raikkonen, who was victorious in Y 2005, winning from 17th on the grid.
Seven of the previous 13 winners started on the Pole.
The other circuit in Japan to host F1 is Fuji, which hosted 4 races.
This is a home race for Toro Rosso, as the circuit is owned by Honda (NYSE:HMC), its engine supplier.
Race Wins this Season
Mr. Hamilton has 8 wins this season to Mr. Vettel's 5. Daniel Ricciardo has 2 and Max Verstappen 1.
Mr. Hamilton has a 50 points lead over Mr. Vettel with 5 races to run. This means Mr. Hamilton can secure his 5th title without having to win again.
Away from the Top 6 drivers, the race for 7th place in the drivers' championship is intense with 5 drivers in contention.
They are Nico Hulkenberg, Fernando Alonso, Kevin Magnussen, Esteban Ocon and Sergio Perez with 6 points separating them. At least this battle is likely to go till the Chequered Flag at Abu Dhabi.
MercedesAMG are 53 points ahead of Ferrari in the constructors' championship and also on course to wrap up the title before the final race.
Every driver on the starting grid has scored this season.
Milestones
Mr. Hamilton took his 80th pole Saturday.
The Russian Grand Prix was Kimi Raikkonen's 200th points finish. Only Messers Schumacher and Alonso have more.
The Grid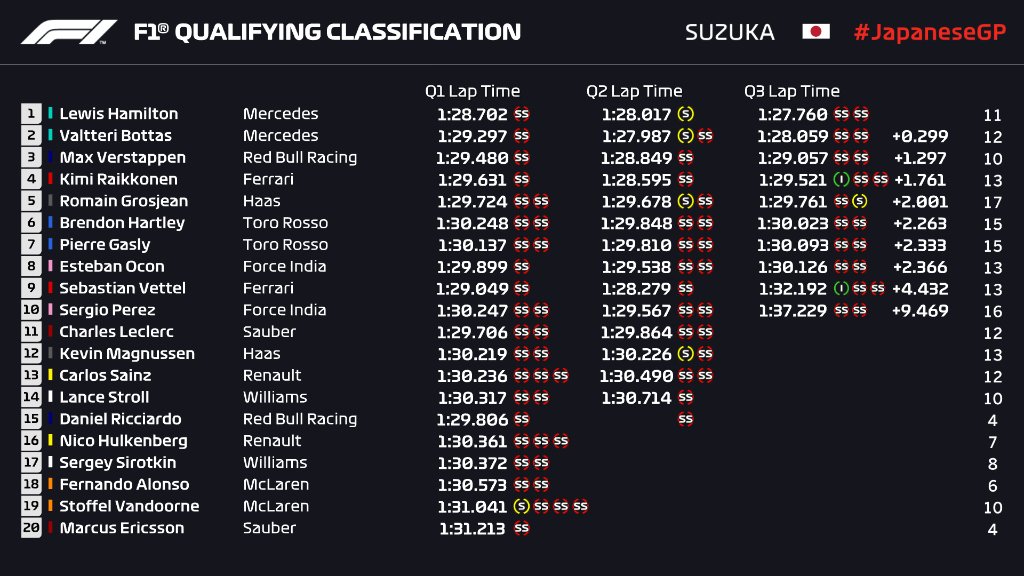 The Qualifying Highlights
Race Times
Date: Sunday, 7 October
Start Time: 6:10a BST/1:10a EDT
TV Info: Sky Sports F1, Channel 4 (UK); ESPN2 (US)
The Weather
Weather at Suzuka has always been fickle. Overcast conditions predicted Sunday and showers happened Saturday.
Tune in and enjoy the racing
The following two tabs change content below.
Paul Ebeling
Paul A. Ebeling, polymath, excels in diverse fields of knowledge. Pattern Recognition Analyst in Equities, Commodities and Foreign Exchange and author of "The Red Roadmaster's Technical Report" on the US Major Market Indices™, a highly regarded, weekly financial market letter, he is also a philosopher, issuing insights on a wide range of subjects to a following of over 250,000 cohorts. An international audience of opinion makers, business leaders, and global organizations recognizes Ebeling as an expert.
Latest posts by Paul Ebeling (see all)