Charles Leclerc, Ferrari (NYSE:RACE) dominated qualifying to claim 4th Pole running at the Russian Grand Prix, a 1st for Ferrari since Michael Schumacher in Y 2001.
The last time a Ferrari driver took 4 straight poles (Michael Schumacher, 2000/01), Leclerc was 3 yrs old.
Sebastian Vettel has been out-qualified by Ferrari team mate Leclerc at all 9 races since he lost the win in Montreal.
By taking second to Valtteri Bottas's 5th, Mercedes' Lewis Hamilton out-qualified a team mate in Sochi for the 1st time in 5 yrs.
Even with Max Verstappen's Red Bull Racing's grid penalty lifting him to 4th, this will be Mr. Bottas's worst-ever starting position in Russia.
Thanks to his grid penalty, Mr. Verstappen will still never have started in the Top 6 in Sochi.
Four in a row: Pole positions for Mr. Leclerc after he got the better of MercedesAMGs' Lewis Hamilton and team mate Sebastian Vettel again in Russian Grand Prix qualifying.
The Big Q: Was he happy?
The Big A: Yes and no.
Mr. Leclerc's smile as he climbed from the car told the story of another job well done, but he was instantly thinking of tomorrow's race, wary that the lengthy run down to Turn 2 Sochi's 1st real corner could actually make starting 1st a disadvantage.
"Yeah it felt amazing," said Mr. Leclerc, who will have MercedesAMGs' Lewis Hamilton alongside him on the front row. "It definitely feels great to back on pole, but I don't know if it's the best track to start on pole.
"The straight is very long after the start, so tomorrow the start will be very important as always, but here probably even more because of the straight length."
Despite his reservations, Mr. Leclerc knows he will be the 1st Ferrari driver since Michael Schumacher to start from pole for a 4th race running an achievement he was keen to play down.
"It definitely feels very, very special, but I don't really want to think about those stats for now," he insisted. "I just want to focus on the job – still a long way to go to tomorrow but it's definitely a good start."
Now, Mr. Leclerc's job is make it 4 wins in a row for Ferrari after his triumphs in Belgium and Italy, and Mr. Vettel's in Singapore. If The Scuderia do it, it will be the 1st time they have done it since Y 2008.
"We have been competitive all weekend long and the race simulations seem positive," added Mr. Leclerc, "so it's looking good for tomorrow."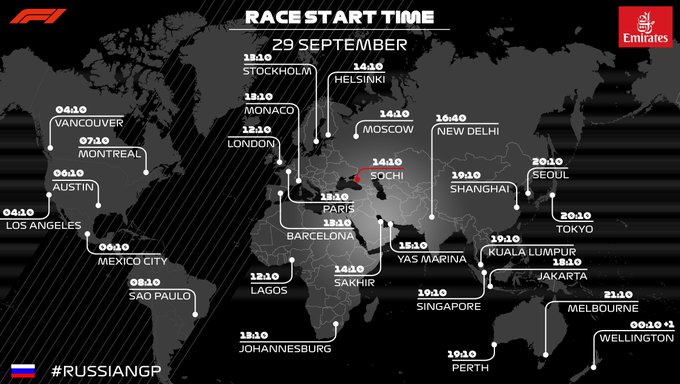 For the official details on the Russian GP click here.
Ferrari is the Aristocrat of the automotive sector.
Enzo Ferrari's iconic Italian Supercar manufacturer claimed the title according to the latest Brand Finance Global 500 2019 report launched at the World Economic Forum in Davos.
HeffX-LTN overall technical outlook for RACE is Neutral to Bearish, overhead resistance is at 154.43 and support at 151.00 as 1 Key indicator has begun flashing Very Bullish in here. Ferrari finished at 152.12, +0.64 Friday in NY.
Note: Goldman Sachs upgraded Ferrari to 'buy' from 'neutral 'calling the stock's pullback a good "entry point." "We upgrade Ferrari from Neutral to Buy, offering 15% upside to our new price targets of 182. Our thesis, outlined in Life of Luxury published last month, is fundamentally unchanged post Ferrari's in-line 2-Q results. We view the stock's recent pullback since July 16 has provided good entry point in here.
Ferrari will continue to create value in the long term. Ferrari is a quality 1st long term investment, and I see it at 200/share in that frame
Tune in, enjoy the racing.