Ferrari (NYSE:RACE) have gotten to the bottom of Sebastian Vettel's engine problem at the 1st pre-season F1 test in Spain last week and are not worried about it, the team said Monday.
The Scuderia spokesman said the engine was stripped and checked back at their Maranello factory after the failure at the Circuit de Catalunya.
"The fault was traced to a non-structural problem with the lubrication system. It's not a cause for concern and work to correct it is already underway," Ferrari said in a statement on their website http://www.ferrari.com.
There are 3 more days of testing at the Spanish circuit this week before the cars are sent to Australia for the 15 March Grand Prix opener in Melbourne.
Sebastian Vettel and Charles Leclerc will share duties in the car when testing resumes Wednesday.
Ferrari is the Aristocrat of the automotive sector.
Enzo Ferrari's iconic Italian Supercar manufacturer claimed the title according to the latest Brand Finance Global 500 2019 report launched at the World Economic Forum in Davos.
HeffX-LTN overall technical outlook for RACE is Neutral to Bullish, there is resistance 167.90, and Key support is at 159.90. The Stochastic is Very Bullish in here, as the stock is very oversold.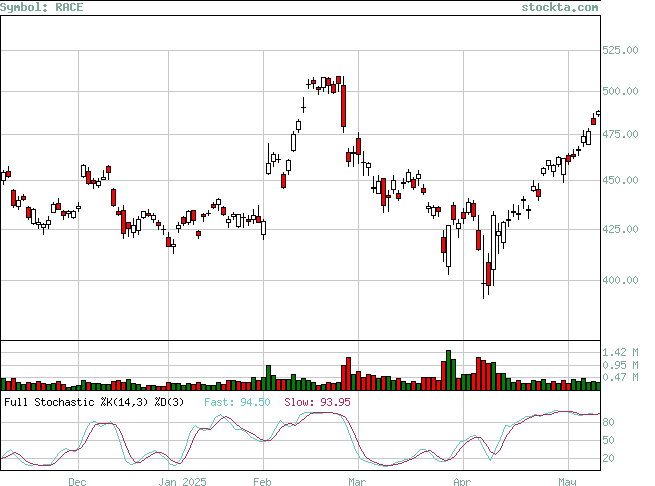 Ferrari finished at 161.51, -1.48 Tuesday in NY.
Ferrari will continue to create value in the long term. Ferrari is a quality 1st long term luxury products investment, and I have called it at it at 200+/share long term, adjusting it to 200/share short term and siding with BAML to 230 long term for now
Stay tuned…
The following two tabs change content below.
HEFFX has become one of Asia's leading financial services companies with interests in Publishing, Private Equity, Capital Markets, Mining, Retail, Transport and Agriculture that span every continent of the world. Our clearing partners have unprecedented experience in Equities, Options, Forex and Commodities brokering, banking, physical metals dealing, floor brokering and trading.