F1: Ferrari (NYSE:RACE) to Come Back Strong after Summer Break
Sebastian Vettel says Ferrari identified its weaknesses and he is confident Team Scuderia will be more competitive after F1's Summer break.
Ferrari has failed to score a Podium (a top 3 position) in any of the last 3 F1 racesand has taken just 50 points to Red Bull's 80, having been in contention for victories at the start of the season.
But Mr. Vettel remains positive about Ferrari's prospects for the balance of the season.
"We know that the last couple of races have been harsh and tough for us but they've been useful and we have understood a lot about our car strengths and weaknesses so we know what to focus on," he said.
"It was not entirely clear after the first couple of races but it became more and more evident.
"It's a harsh way to find out and we're not as competitive as we want but we know to what to do.
"It's not something to change overnight but there is a plan and the second half should be stronger in that regard.
"It also depends on what other people will do but for now that is the focus on ourselves."
When asked why Ferrari hadn't seen these deficiencies earlier in the season, Mr. Vettel said: "Some things do take time but overall the most important thing is that we are challenging ourselves.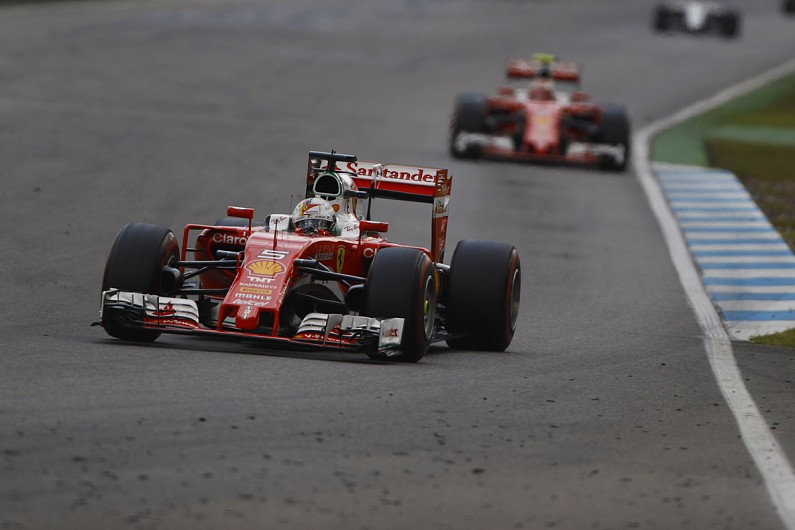 "You are right – it would have been nicer to find out a bit sooner but that's how it is.
"The main point though is that we find out, we are always trying to improve but as I said the last races in this regard have been very educational in finding out our potential weaknesses."
Vettel added that while a lot of effort is now going on the Y 2017 car, ahead of the aerodynamic regulation changes, there are more developments planned for this year.
"There is some stuff coming and that has always been the plan but also like everyone else we are already preparing big time on 2017," he said.
"It is a different project and the cars will be very different but there are still some things that we can learn and understand this year which will help us next year."
| | | | | | | | |
| --- | --- | --- | --- | --- | --- | --- | --- |
| Symbol | Last Trade | Date | Change | Open | High | Low | Volume |
| NYSE:RACE | 48.4 | 19 August 2016 | -0.26 | 47.43 | 48.4 | 47.35 | 597,900 |
HeffX-LTN Analysis for RACE:
Overall
Short
Intermediate
Long

Bullish (0.36)

Very Bullish (0.64)

Bullish (0.27)

Neutral (0.15)
Have a terrific weekend.
The following two tabs change content below.
HEFFX has become one of Asia's leading financial services companies with interests in Publishing, Private Equity, Capital Markets, Mining, Retail, Transport and Agriculture that span every continent of the world. Our clearing partners have unprecedented experience in Equities, Options, Forex and Commodities brokering, banking, physical metals dealing, floor brokering and trading.