F1: Brazilian Grand Prix 2017 Times from Friday's Practice
$RACE
Friday, world champion Lewis Hamilton topped the timesheets in FP1 ahead of the 2017 Brazilian F1 Grand Prix, as he set a time of 1min, 9.202sec at Interlagos in Sao Paulo.
His MercedesAMG team-mate, Valtteri Bottas was a close 2nd just 0.127 seconds behind, while Ferrari's (NYSE:RACE) Kimi Raikkonen was around 0.5sec back in 3rd.
The Silver Arrows continued their success into the 2nd session, as the expected rain barely showed. MercedesAMG once again appear the clear favorites to win the race Sunday.
FP2 Recap
Here's a look at the FP2 classification: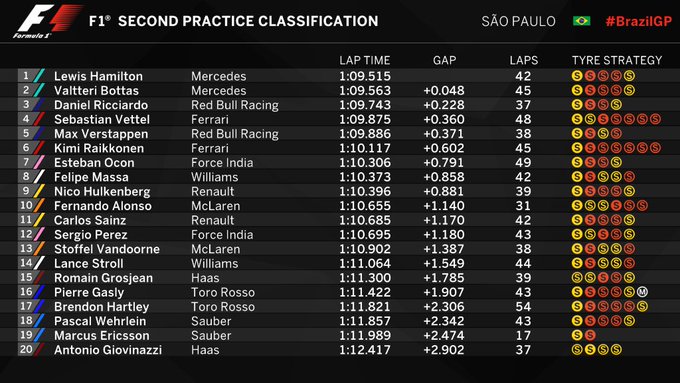 INITIAL CLASSIFICATION (END OF FP2): Another strong session for @MercedesAMGF1#BrazilGP

#FP2
As usual, teams mostly focused on the longer runs in the second practice session, but there was still time for some hot laps on the supersofts.
Messrs Hamilton and Bottas comfortably took the Top spots on the timesheets, with Ferrari and Red Bull Racing battling it out at a safe distance.
The combination of scorching temperatures and threat of rain made the 2nd session a tricky 1 to figure out for the teams, and Red Bull Racing surprised some with a late order to move Daniel Ricciardo's car into "Mode 7," warning him it would be quite aggressive.
Mr. Hamilton just about matched Max Verstappen's supersoft times on the softs, however, highlighting just how dominant MercedesAMG were on the track Friday.
Mr. Verstappen was the 1st to set a time in Brazil, but despite immediately setting about improving on it, he was quickly surpassed by Mr. Bottas as he beat last year's Pole time of 1:10.736 inside a 1/4 hour.
Meanwhile, Brendon Hartley's session ended after just two laps due to problems with his Toro Rosso's power unit:
Difficult start to #FP1 for HAR
Sebastian Vettel exited the track soon after, though his Ferrari escaped without damage:
At the top of the standings, Mr. Hamilton set a track record of 1:09.672, and he set another after being briefly unseated by his team-mate Mr. Bottas.
HeffX-LTN Analysis for RACE:
Overall
Short
Intermediate
Long

Neutral (0.01)

Neutral (-0.03)

Neutral (-0.02)

Neutral (0.08)
TV TIMES: When to watch the MotoGP Grand Prix of Valencia on FOX SPORTS
Race Centre will also show live timing and final results for qualifying and the race.
Below is the schedule for this weekend.
All times AEDT and on FOX SPORTS 506.
SATURDAY
2:45am — Practice 2
5:00am — Team Principals' press conference
6:00am — The F1 Show
11:45pm — Practice 3
SUNDAY
2:00am — Qualifying pre-show
3:00am — Qualifying
4:00am — Qualifying post-show
MONDAY
1:30am — Pre-race show
3:00am — 2017 Formula 1 Heineken Brazilian Grand Prix
8:00pm — Full race replay
Enjoy the racing.
The following two tabs change content below.
Paul Ebeling
Paul A. Ebeling, polymath, excels in diverse fields of knowledge. Pattern Recognition Analyst in Equities, Commodities and Foreign Exchange and author of "The Red Roadmaster's Technical Report" on the US Major Market Indices™, a highly regarded, weekly financial market letter, he is also a philosopher, issuing insights on a wide range of subjects to a following of over 250,000 cohorts. An international audience of opinion makers, business leaders, and global organizations recognizes Ebeling as an expert.
Latest posts by Paul Ebeling (see all)