Verizon (NYSE:VZ) is a top telecommunications company and offers tremendous value at current marks, and its shares are still down 8% YTD. 
VZis one of the largest US telecom companies providing wireless and wireline service to retail, enterprise and wholesale customers.
The company's wireless network serves approximately 120-M mobile connections with 115-M post-paid subscribers. Its wireline business has undergone a period of secular decline due to wireless substitution and cable competition.
Verizon acquired AOL and Yahoo to create the Oath digital content platform, which has expanded the reach and brand to younger investors.
The company provides converged communications, information and entertainment services over America's most advanced fiber-optic network, and it delivers integrated business solutions to customers worldwide. Plus, Verizon is 1 of the most valuable brands in the world.
The 4.46% dividend yield looks safe. Our price objective at 62.07 compares with a 60.36 consensus target price. Verizon stock closed at 55.72 Thursday.
The major support is at 53.87 and Key resistance is at 59.25 and is setting up for a breakout. I am Neutral with a slight Bullish bias in here.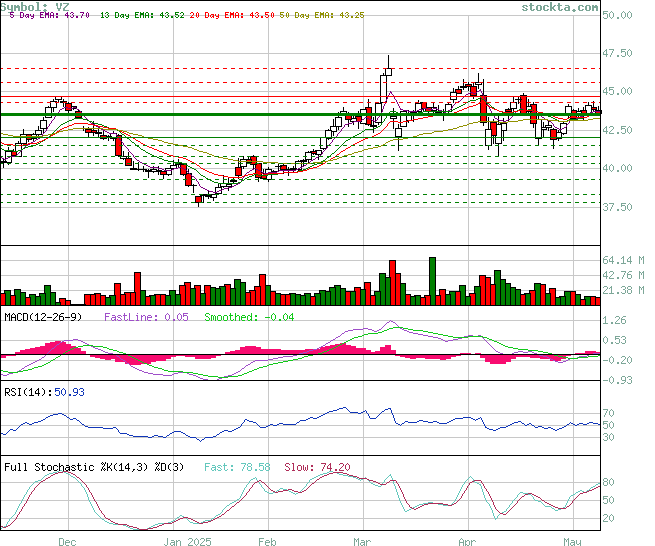 Have a healthy weekend, Keep the Faith!
The following two tabs change content below.
Paul Ebeling
Paul A. Ebeling, a polymath, excels, in diverse fields of knowledge Including Pattern Recognition Analysis in Equities, Commodities and Foreign Exchange, and he is the author of "The Red Roadmaster's Technical Report on the US Major Market Indices, a highly regarded, weekly financial market commentary. He is a philosopher, issuing insights on a wide range of subjects to over a million cohorts. An international audience of opinion makers, business leaders, and global organizations recognize Ebeling as an expert.   
Latest posts by Paul Ebeling (see all)