What Happened Last Month
The US stock market maintained a Bullish trajectory throughout May which saw many indices, sectors, and stocks retracing back above their March and April resistance zones. 
Broad-based gains lift S&P 500 back above its 200-Day MA, and Bullish with a Very Bullish bias across the board.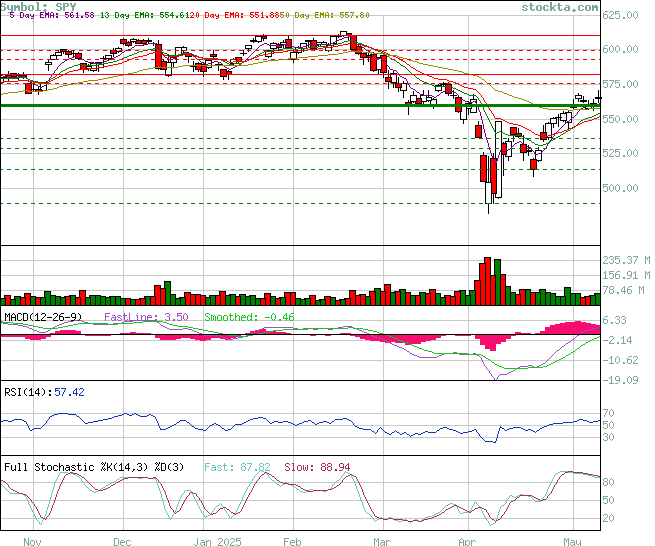 Some stronger groups have even rallied back towards YTD highs at February marks.  With that in mind, spotting leaders that are setting up on a "clean" technical basis is providing some good trading and buying opportunities.
I list them in the Sitting on a Cash Pile column, click here for the archive.
The Pullback Long candidates are all stocks in strong uptrends that are starting to show a consolidation or mild pullback.  Often these stocks will be defended around a rising short-term moving average like the 10-Day, 20-Day, or 50-Day. 
The Technicals
S&P 500 gapped higher, moved up from there and then reversed to the negative late in the session Thursday. Here, we saw lower volume and narrower breadth. So, it appears that the S&P 500 is taking a breather after a good break Northside and reclaimed its 200-Day MA.
NAS Comp started lower, reversed to the Northside to a new recovery high that was over 9,500. This was 50 pts from filling the gap lower produced in mid-February. While the NAS Comp looked promising, it reversed and sold to a loss. But it is still over the 10-D EMA and remains in the up trend on lower volume. While it held the steady rise, the day failed to sustain the Wednesday reversal off of the Tuesday and early Wednesday selling. That remains the next step. Friday, both the NAS and the S&P 500 finished higher.
This is a Bull market that some love to hate as it climbs the wall of worry. So remember do not overanalyze it, and always take what it gives tuning out the Noise!
Have a healthy week, Keep the Faith!