Last Friday's Action
Stocks recovered but struggled late in the day as the Fed, after a big repurchase operation in the am, said it will reduce the amount of the repos.
The overnight repo saw $45.85-B in demand pasting the Fed's offer. The 2-wk repo saw $59.02-B Vs the $30-B the Fed was providing, then the Fed added $79-B of liquidity. With that it is easy to see why buy the dip happened, given the added liquidity.
Then, in the afternoon, the Fed announced that it would be reducing the amount of money that it was offering in its repo operations. This meant that overnight operations would decrease by $20-B and 2-wk repos would drop by $10-B. Then the buy-the-dip move stopped and stocks faded into the close pushing the large-cap indices into the Red.
Technical Analysis:
NASDAQ: The NAS Comp is still solid enough as it broke higher in early February from its volatility at the end of January, tested and then broke higher on a new leg last Monday. The NAS can test laterally for a few sessions and then continue Northward. Thursday's action would classify as a lateral move.
S&P 500: The S&P 500's trajectory was similar to the NAS', but the S&P 500 started this move down at the 50-Day EMA with a good test of support. Then, it moved up to the prior high from January, tested to the 10-Day EMA and then broke higher again last Monday. As with the NAS, the S&P 500 can consolidate laterally in here, let the 10-Day EMA catch up and then move North again.
This week
DJIA Futures Today
DJIA futures are moving on the Apple coronavirus warning, but the return of normal US trading Tuesday will be more telling.
DJIA futures fell 0.3% Vs fair value, S&P 500 futures retreated 0.3%. NAS Comp futures sank 0.6%.
Apple stock is a member of the Dow Jones, S&P 500 and NAS Comp. DJIA futures rallied modestly before the Apple coronavirus warning.
Remember that overnight action in DJIA futures and elsewhere does not necessarily translate into actual trading in the next regular stock market session.
Apple (AAPL) warned it won't meet revenue guidance as the China coronavirus hits iPhone production and demand.
Last week, Tesla (TSLA) cited "health epidemics" as a risk and Alibaba(BABA) warned that the coronavirus was a "Black Swan" event.
The Apple coronavirus warning could affect iPhone chipmakers such as Broadcom (AVGO), Qualcomm (QCOM) and Taiwan Semiconductor Manufacturing (TSM).
Apple stock has been consolidating near record highs after tumbling a few weeks ago on coronavirus fears
Retail giant Walmart (WMT) report earnings early Tuesday.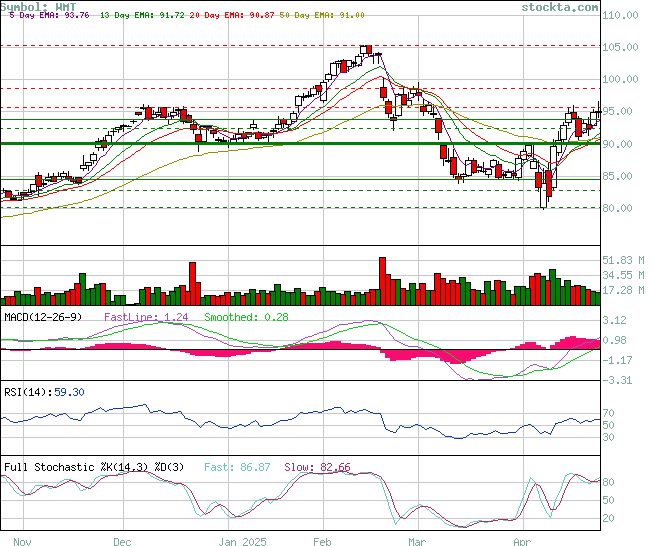 Analysts expect Walmart (NYSE:WMT) EPS to edge up 1% to 1.43 with sales rising 3% to $42.48-B. Same-store sales, excluding gasoline and foreign currency swings, should climb 2.2%, according to Consensus Metrix.
Walmart earnings rose 7% in Q-3 after small decliners in Q-1 and Q-2.
Walmart stock has reclaimed its 50-Day MA line after finding support at its 200-Day MA in late January. WMT stock does have a 125.48 flat-base buy point. But the RSI line for Walmart stock has been falling for 5 months The RS line, the blue line in the charts below, tracks a stock's performance Vs the S&P 500 index.
Have a terrific week
The following two tabs change content below.
Paul Ebeling
Paul A. Ebeling, a polymath, excels, in diverse fields of knowledge Including Pattern Recognition Analysis in Equities, Commodities and Foreign Exchange, and he is the author of "The Red Roadmaster's Technical Report on the US Major Market Indices, a highly regarded, weekly financial market commentary. He is a philosopher, issuing insights on a wide range of subjects to over a million cohorts. An international audience of opinion makers, business leaders, and global organizations recognize Ebeling as an expert.   
Latest posts by Paul Ebeling (see all)