#Ferrari #earningscall #outlook #Camilleri #SF90Stradale #C19Cronavirus
CEO Louis Camilleri from the earnings call transcript: Welcome everyone. And thank you for joining us. As we had anticipated during our May Fall earnings call, our 2nd quarter results were weak across all Key metrics, but frankly, in line with our expectations. These results clearly reflect the very challenging times that we have all endured in recent months on many levels.
I do wish to salute the resilience, commitment and determination that has been exhibited by all of my colleagues here and in Maranello and in our markets.
While the headline numbers are clearly not a reflection of what this great company is capable of achieving, one notable metric is that despite everything we had to confront, our core business generated an EBITDA margin of above 30% in the 2nd quarter and above 40% in the 1st half.
As I previously mentioned, the disruptions caused by the COVID-19 pandemic were in themselves a huge challenge to surmount. But its timing was doubly unfortunate as it engulfed us at a critical time in the delicate industrialization phase of the new models that we presented last year and in particular, as it relates to the SF90 Stradale, which contains more than 2000 new components from our supply chain.
While we are confident that deliveries to our clients will begin early in the 4th quarter, the ramp up in production will inevitably be delayed, which is the predominant reason for the adjustment to the midpoint of our guidance for the full year. In terms of the overall dynamics and health of the business, these remain as strong as ever. Demand remains vibrant and our order book is up significantly versus the corresponding prior year period. Allowing for the obvious favorable impact on our order book of the lower deliveries resulting from the more than 7-week production shutdown, it is still up double digits versus last year in absolute terms.
Order cancellations to date are well within the historical norms and actually are lower than what we had feared may well have occurred, given our experience during the financial crisis. But we recognize it is still early days.
The pre-owned market, which was relatively dormant in April and May, is quite active again and indications are that residual values ever remain stable and in certain instances have actually risen in part due to the absence of the sufficient supply of new costs.
The market's reaction was Very Bullish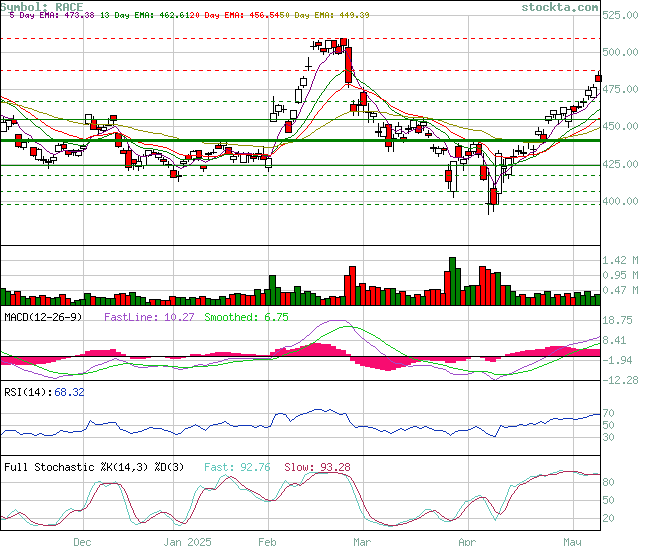 Ferrari is The Aristocrat of the automotive sector.
Enzo Ferrari's iconic Italian Supercar manufacturer claimed the title according to the latest Brand Finance Global 500 2019 report launched at the World Economic Forum in Davos
HeffX-LTN overall technical outlook for RACE is overall Very Bullish, the resistance is light at 188.10, Strong Support is at 181.26
Our overall technical outlook is Bullish in here, as all Key indicators are Very Bullish.
Ferrari finished at 186.45, +4.75 Monday in NY, just shy of its intraday all time highs at 189.26 marked on 3 August 2020.
The Maranello Outfit's shares were raised to Buy from Hold at HSBC.
Ferrari will continue to create value in the long term. Ferrari is a quality 1st long term luxury products investment, and I have called it at it at 200+/share long term, adjusting it to 200/share short term (after the virus) and siding with BAML to 230 long term for now. The stock is now considered defensive in the sector.
Have a healthy day, Keep the Faith!