Boston Scientific (NYSE:BSX) is a Top medtech company that has steadily moved higher over the past 5 yrs. It finished Tuesday, at 37.54.
BSX develops, manufactures and markets medical devices that are used in interventional cardiology, peripheral interventions, vascular surgery, electrophysiology, neurovascular interventional, oncology, endoscopy, urology, gynecology and neuromodulation.
The company posted very solid Q-1 results a testament to the deep product pipeline and solid C-suite management. It has performed nicely off if its 23 March low, we see it today as a Top pick in the medtech sector.
The company has underperformed its large-cap peers YTD given its greater exposure to elective procedures in the C-19 cronavirus chaos.
With the worst months for procedure volume priced-in and the reopening process for healthcare facilities gaining momentum, coupled with several measures management has taken to shore up the balance sheet there is an opportunity for mean reversion in the stock/multiple.
Further, Boston's product portfolio and pipeline can drive high-single-digit revenue growth on a normalized basis, which is ahead of most diversified large-cap med tech peers.
I have a 50 price target, the consensus target is at 43.55. Boston Scientific stock closed Tuesday at 37.54. There is is strong Support at 37.09 and Key resistance at 42.42. The selling pressure has stopped, and the stock truned Very Bullish on 27 May.
The 23 March sell off low was 24.01.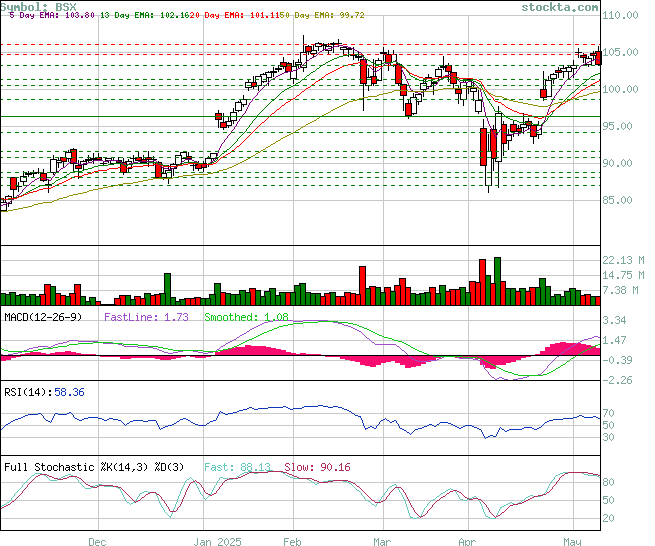 News
Monday, 1 June, Boston Scientific (NYSE:BSX) announced the US launch of the DIRECTSENSE™ Technology, a tool for monitoring the effect of radiofrequency (RF) energy delivery during cardiac ablation procedures. Available on the RHYTHMIA HDx™ Mapping System, the DIRECTSENSE Technology, which received U.S. Food and Drug Administration approval in April, is the only tool to monitor changes in local impedance – electrical resistance – around the tip of the INTELLANAV™ MiFi Open-Irrigated (OI) ablation catheter, offering physicians an additional measurement of therapy effect during an ablation.
Profile
Boston Scientific Corporation develops, manufactures, and markets medical devices for use in various interventional medical specialties worldwide.
It operates through 3 segments: MedSurg, Rhythm and Neuro, and Cardiovascular.
The company offers devices to diagnose and treat gastrointestinal and pulmonary conditions; devices to treat various urological and pelvic conditions; implantable cardioverter and implantable cardiac resynchronization therapy defibrillators, pacemakers and implantable cardiac resynchronization therapy pacemakers, and remote patient management systems.
It also provides medical technologies to diagnose and treat rate and rhythm disorders of the heart comprising 3-D cardiac mapping and navigation solutions, ablation catheters, diagnostic catheters, mapping catheters, intracardiac ultrasound catheters, delivery sheaths, and other accessories; spinal cord stimulator systems for the management of chronic pain, indirect decompression systems, and deep brain stimulation systems.
In addition, the company offers interventional cardiology products, including drug-eluting coronary stent systems used in the treatment of coronary artery disease, percutaneous coronary interventions products to treat atherosclerosis, intravascular catheter-directed ultrasound imaging catheters, fractional flow reserve devices, and systems for use in coronary arteries and heart chambers, as well as various peripheral vessels; and structural heart therapies.
Further, it provides stents, balloon catheters, wires, atherectomy systems to treat arterial diseases, thrombectomy and acoustic pulse thrombolysis systems, wires, and stents to treat venous diseases; and peripheral embolization devices, radioactive microspheres, ablation systems, and micro and drainage catheters to treat cancer.
The company was founded in Y 1979 and is HQ'd in Marlborough, Massachusetts.
Have a healthy day, Keep the Faith!
The following two tabs change content below.
Paul Ebeling
Paul A. Ebeling, a polymath, excels, in diverse fields of knowledge Including Pattern Recognition Analysis in Equities, Commodities and Foreign Exchange, and he it the author of "The Red Roadmaster's Technical Report on the US Major Market Indices, a highly regarded, weekly financial market commentary. He is a philosopher, issuing insights on a wide range of subjects to over a million cohorts. An international audience of opinion makers, business leaders, and global organizations recognize Ebeling as an expert.   
Latest posts by Paul Ebeling (see all)