Bitcoin 'Wobbles', Ripple and Ethereum 'Fluctuate'
Bitcoin 'wobbles', trading near $11,000 Wednesday after losing 25% of its value as traders look for a pricing floor on stressful concern regulators will move ahead with new rules to restrict the nascent cryptocurrency industry.
Currently, Bitcoin is trading at: 11,311.9951, -1,552.01, or -12.06%, as of 6:23a GMT, the market is open.
Bitcoin, the largest of the digital coins fell 26% Tuesday, according to the exchange's pricing. Ripple and Ethereum fluctuated between gains and losses.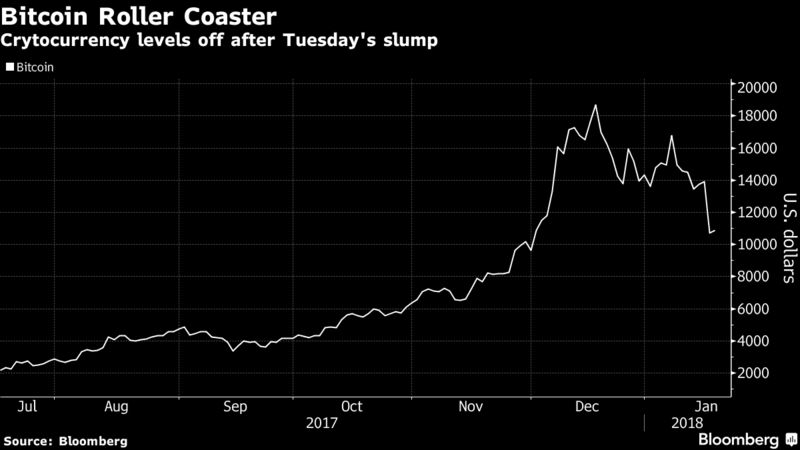 "Cryptocurrency holders are trying to decide whether to abandon Bitcoin," the head of research and strategy with Rafiki Capital, said in a 16 January  note to clients.
The market knows that once you stop pricing Bitcoin and its derivatives as new assets that will head to the Moon, the pricing model is more conventional and much less astounding.
Some retail investors are still trading on the selloff, referring to going with the flow. Or as I characterize it in the Zen mode of always taking what the market gives, and the survival mode of never standing in-front of a moving train.
Either way requires discipline, patience. nerves of steel and money.
World wide we are seeing speculators struggling to 'know' when or how market regulators may rein in an industry that's decentralized and derives much of its value from anonymous ownership, which is 180 degrees out of their phase.
Over that last 12 months and longer we have heard several assertions that digital coins represent a bubble. Such assertions have triggered double-digit selloffs over the past year, only to be followed by strong buy this dips rebounds.
In SKorea, shutting down cryptocurrency exchanges is stated an option in the ongoing discussions, Finance Minister Kim Dong-yeon said in an interview with TBS radio on 16 January. Kim said there is irrational speculation and that rational regulation is needed.
It will be very interesting to see how that plays out.
In China, the government is clamping down on cryptocurrency trading, targeting online platforms and mobile apps that offer exchange-like services.
In the US, state regulators are becoming more active with BitConnect shuttering its cryptocurrency exchange and lending operation after receiving 2 cease-and-desist letters from the Texas State Securities Board and North Carolina Secretary of State Securities Division for the unauthorized sale of securities and suffering from denial-of-service attacks, according to sources familiar with the matters
From what we have experienced since the beginning is extreme price swings that a appearing to be the norm and Bitcoin is not a measured market that goes up and down gently, it is Wild!
Stay tuned…
The following two tabs change content below.
Paul Ebeling
Paul A. Ebeling, polymath, excels in diverse fields of knowledge. Pattern Recognition Analyst in Equities, Commodities and Foreign Exchange and author of "The Red Roadmaster's Technical Report" on the US Major Market Indices™, a highly regarded, weekly financial market letter, he is also a philosopher, issuing insights on a wide range of subjects to a following of over 250,000 cohorts. An international audience of opinion makers, business leaders, and global organizations recognizes Ebeling as an expert.
Latest posts by Paul Ebeling (see all)