Bitcoin Technical's: MA 'Death Cross' Looms
The Death Cross pattern does not augur well for Bitcoin.
Traders who look for future price direction in technical patterns are seeing indicators that suggest the leading digital currency may have further to fall.
Currently, Bitcoin is trading at: 
8,196.721680,

 
+384.221680, +4.918033%

, as
 of 5:37a GMT, 
 the market is open.
Bitcoin's 50-Day MA has fallen to the closest proximity to its 200-Day MA in 9 months. Crossing below that Key mark signals weakness to come for technical traders who dub the move a "Death Cross."
Another MA (moving-average) indicator of momentum has turned Bearish already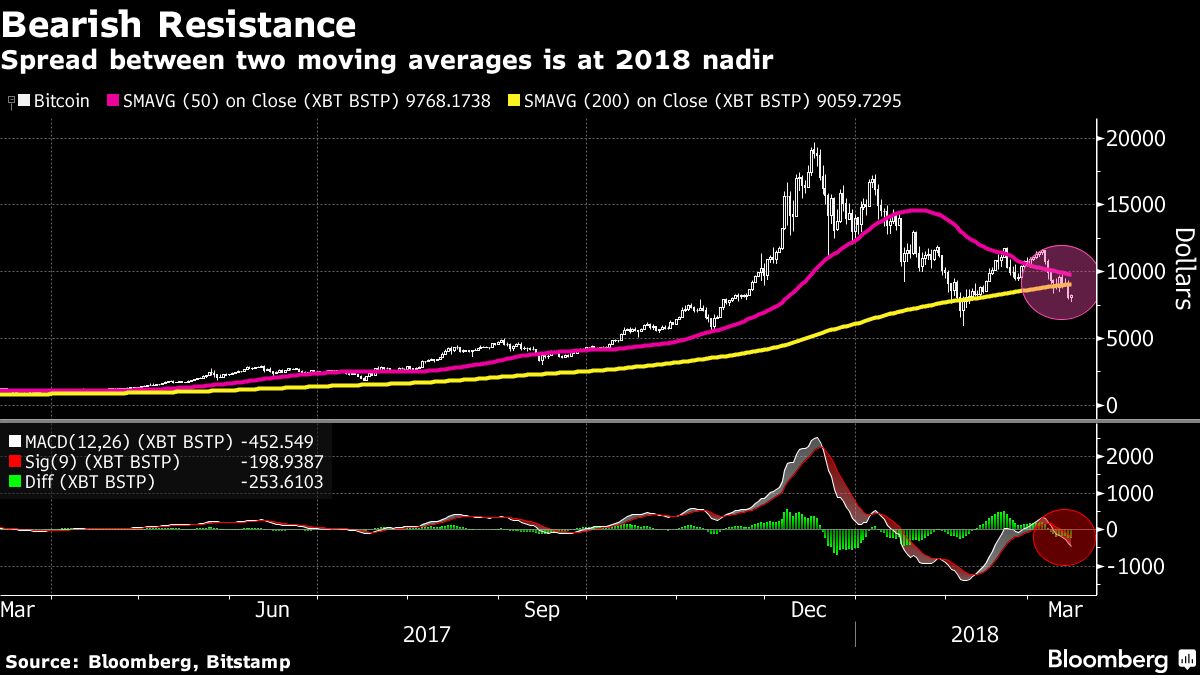 While many cryptocurrency investors do not follow technical analysis, the digital-coin world is drawing interest from professional traders who pay attention to the technical indicators, after the token vaulted to a record in December on the entry of the Chicago Merc (CME) and the Chicago Board of Exchange (Cboe) that brought on futures and options in Bitcoin
Since then, we have seen a definitive shift after the price spike to near $20000 at end of Y 2017.
Technical traders study the virtual currency's Y 2013 tumble for clues on how it may act this time round.
The Big Q: What is the  conclusion?
The Big A: Get ready for a 76% Fibo retracement from late February highs, which would see Bitcoin at $2,800, if/when the downtrend occurs.
Another gauge that suggests weakness is the MA convergence-divergence indicator, which measures price momentum to flash Buy/Sell signals.
Bitcoin traders are happy with the volatility, investors need nerves of steel and deep pockets to boot.
When Bitcoin's 50-Day MA last hung below the 200-Day measure, during the 1st 10 months Y 2015, its performance hohum. It fell 5.2% in that frame, and then rallied 43% through year-end from the day it broke back above the Key resistance mark.
Since then Bitcoin has remained above that line, and posted 3 successive annual gainers in the process.
Stay tuned…
The following two tabs change content below.
Paul Ebeling
Paul A. Ebeling, polymath, excels in diverse fields of knowledge. Pattern Recognition Analyst in Equities, Commodities and Foreign Exchange and author of "The Red Roadmaster's Technical Report" on the US Major Market Indices™, a highly regarded, weekly financial market letter, he is also a philosopher, issuing insights on a wide range of subjects to a following of over 250,000 cohorts. An international audience of opinion makers, business leaders, and global organizations recognizes Ebeling as an expert.
Latest posts by Paul Ebeling (see all)