Baidu, Inc. (NASDAQ:BIDU) Looks To Be A Good Buy
Baidu is China's largest search engine with 70% market share, and aptly named the "Google of China".
Baidu offers much more including social media (chat forums), entertainment (58% of iQiyi, the Netflix of China), food takeaway, apps, maps, payment services, and Baidu cloud services.
Baidu's future focus is towards growing their artificial intelligence capabilities and revenues.
Baidu's valuation is currently attractive due to several short-term headwinds facing Baidu and China.
Baidu Inc. was established on 18 January 2000 by Robin Li and Eric Xu. Robin Li is a member of the 12th Chinese People's Political Consultative Conference, and one of the richest people in China, with a net worth of US$18.5 billion as of October 2017.
Baidu is a Chinese multinational technology company specializing in internet related services and products (as well as artificial intelligence), and is headquartered at the Baidu Campus in Beijing's Haidian District.
The word "Baidu" means a "persistent search for the ideal", or implies a search for knowledge.
Baidu co-founder and CEO Robin Li (in 2010) – BSc, Master in Computer Science degree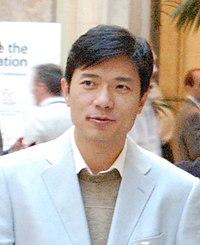 Baidu is China's largest search engine, and aptly named the "Google of China." Around 70% of all online search (phone or PC) in China is done via Baidu.
Baidu's other areas include Baidu Tieba (chat rooms, post bar), Baidu Encyclopedia (like Wikipedia) and Baidu Knows (bulletin board), Baidu Maps, entertainment, Baidu Mobile Assistant, app center and development, Baidu Takeaway, Baidu Wallet, and Baidu Cloud. Baidu also owns a large stake (58%) in iQiyi (NASDAQ:IQ) (the Netflix (NASDAQ:NFLX) of China). Additionally, Baidu has recently cemented their place in China for ride-sharing and autonomous driving.
Overall, the bias in prices is: Downwards.
By the way, prices are vulnerable to a correction towards 177.34.
The projected upper bound is: 172.80.
The projected lower bound is: 151.68.
The projected closing price is: 162.24.
Candlesticks

A white body occurred (because prices closed higher than they opened).
During the past 10 bars, there have been 5 white candles and 5 black candles. During the past 50 bars, there have been 27 white candles and 22 black candles for a net of 5 white candles.
A spinning top occurred (a spinning top is a candle with a small real body). Spinning tops identify a session in which there is little price action (as defined by the difference between the open and the close). During a rally or near new highs, a spinning top can be a sign that prices are losing momentum and the bulls may be in trouble.
Momentum Indicators

Momentum is a general term used to describe the speed at which prices move over a given time period. Generally, changes in momentum tend to lead to changes in prices. This expert shows the current values of four popular momentum indicators.
Stochastic Oscillator
One method of interpreting the Stochastic Oscillator is looking for overbought areas (above 80) and oversold areas (below 20). The Stochastic Oscillator is 11.4711. This is an oversold reading. However, a signal is not generated until the Oscillator crosses above 20 The last signal was a sell 14 period(s) ago.
Relative Strength Index (RSI)
The RSI shows overbought (above 70) and oversold (below 30) areas. The current value of the RSI is 40.28. This is not a topping or bottoming area. A buy or sell signal is generated when the RSI moves out of an overbought/oversold area. The last signal was a buy 43 period(s) ago.
Commodity Channel Index (CCI)
The CCI shows overbought (above 100) and oversold (below -100) areas. The current value of the CCI is -138.This is an oversold reading. However, a signal isn't generated until the indicator crosses above -100. The last signal was a sell 14 period(s) ago.
MACD
The Moving Average Convergence/Divergence indicator (MACD) gives signals when it crosses its 9 period signal line. The last signal was a sell 8 period(s) ago.
Rex Takasugi – TD Profile

BAIDU INC ADS closed up 0.370 at 162.540. Volume was 8% above average (neutral) and Bollinger Bands were 32% narrower than normal.
Open High Low Close Volume___
162.000 163.190 160.910 162.540 3,412,215
Technical Outlook
Short Term: Oversold
Intermediate Term: Bearish
Long Term: Bearish
Moving Averages: 10-period 50-period 200-period
Close: 167.84 166.42 210.01
Volatility: 24 41 43
Volume: 4,387,347 3,180,566 3,401,013
Short-term traders should pay closer attention to buy/sell arrows while intermediate/long-term traders should place greater emphasis on the Bullish or Bearish trend reflected in the lower ribbon.
Summary
BAIDU INC ADS is currently 22.6% below its 200-period moving average and is in an downward trend. Volatility is extremely low when compared to the average volatility over the last 10 periods. There is a good possibility that there will be an increase in volatility along with sharp price fluctuations in the near future. Our volume indicators reflect moderate flows of volume out of BIDU.O (mildly bearish). Our trend forecasting oscillators are currently bearish on BIDU.O and have had this outlook for the last 2 periods.
The following two tabs change content below.
HEFFX has become one of Asia's leading financial services companies with interests in Publishing, Private Equity, Capital Markets, Mining, Retail, Transport and Agriculture that span every continent of the world. Our clearing partners have unprecedented experience in Equities, Options, Forex and Commodities brokering, banking, physical metals dealing, floor brokering and trading.