Charles Leclerc, 22 anni, is the youngest F1 Grand Prix winner after winning at Belgium and Monza in Y 2019
Ferrari (NYSE:RACE) just announced the signing Arthur Leclerc, 19 anni, Charles Leclerc's younger brother, into their Driver Academy.
Charles was a graduate of Ferrari's junior program and has gone on to become the youngest Grand Prix winner following the Belgium Grand Prix in Y 2019.
Arthur who was born in 2000 is not quite ready to take the wheel of the Ferrari Grand Prix now, though he is going to take on the Formula Regional series for Prema Powerteam. It is a series that has valuable super license points on offer.
Previously he was part of the Sauber Junior team and took part in the Ferrari Driver Academy trials in Y 2019. He also raced in German F4, where he took the win and 7 podiums to finish in 3rd place for the championship.
His enrollment into the FDA is accompanied by a campaign in the Y 2020 Formula Regional European Championship with Prema as the Powerteam, which is the same one that his brother won the Y 2017 European F2 championship.
At Prema, the younger Mr. Leclerc is going to race alongside fellow FDA member, Gianluca Petecof.
Arthur Leclerc revealed he is happy to drive in the Formula Regional with 1 of the best teams in the junior series.
He is going to join 8 Ferrari Driver Academy members in Y 2020, including Mick Schumacher, Robert Shwartzman, Callum Llot, Marcus Armstrong, Enzo Fittipaldi, Giuliano Alesi, Dino Beganovic and Petecof.
FDA technical director, Marco Matassa, stated all of their drivers taking part in F3, Formula Regional, and F4 are newbies in their respective categories, so the season seems it is going to be very interesting and competitive.
In each case, the objectives of the FDA would be to continue to assist them to progress on an individual and technical front in their path towards common objectives.
The sporting director for Ferrari, Laurent Mekies, added that it had been a busy Winter for the FDA in Maranello. They have also been scouting for more talented youngsters, and they were happy to announce Dino and Arthur are joining the family for what is probably going to be an exciting season.
It is  going to be interesting to see how the younger Mr. Leclerc is going to fare in this season and during the initial training with the FDA.
At this time, it seems he is following the exact footprints of his brother and, in a few years, may take the Ferrari seat at F1. If Charles is still with Ferrari, it would be super to see the 2 brothers race for The Scuderia.
Ferrari is the Aristocrat of the automotive sector.
Enzo Ferrari's iconic Italian Supercar manufacturer claimed the title according to the latest Brand Finance Global 500 2019 report launched at the World Economic Forum in Davos.
HeffX-LTN overall technical outlook for RACE is Bullish to Very Bullish, overhead resistance is None, and Key support is solid at 172.00, 3 of our Key indicators are Bullish, and the stock has established strong long term support ahead of this coming breakout North.
Ferrari broke out, back and filed and finished at 173.41, +0.83 Thursday in NY.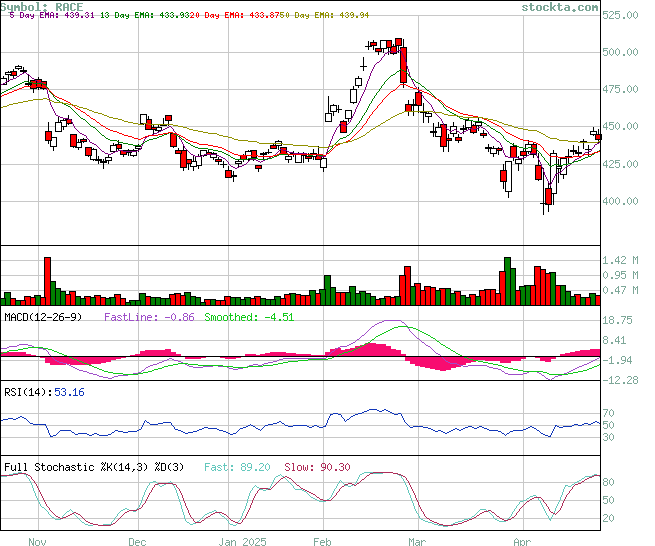 Ferrari will continue to create value in the long term. Ferrari is a quality 1st long term luxury products investment, and I have call it at it at 200+/share long term, adjusting it to 200/share short term and siding with BAML to 230 long term for now.
Have a terrific weekend