$SBUX
Compare the restaurant apocalypse, to the news coming out of the coffee shop landscape and here is what we see…
The scene across much of the American coffee industry right is grim. Cafes nationwide are closed or operating at limited capacity, baristas are furloughed, laid off outright, or working with significant reductions in hrs.
Compare the situation restaurant apocalypse, there is some news coming out of the coffee landscape, as a few small signs of uptick that point to the wider scope of where coffee in America is headed.
Coffee is a baked-in need, it is recession proof, and may also be depression should the economy come to that.
Coronavirus has changed everything in America, but for coffee drinkers, and those who make their lives around it the brewing goes on and there is hope that coffee is going to survive this and whatever comes next.
The American specialty coffee industry is not just 1 thing. The COVID-19 chaos shutdowns have impacted different brands in different ways.
Scale and growth have been intrinsic to specialty coffee over the past 10 yrs, to 5.5% annually, resulting in a unique set of circumstances and opportunities in the face of nationwide cafe shutdowns and closures.
There is a wide utility for coffee, it is something people need to power through when it gets rough. In this powering through, there's hope for the long-term health of the coffee industry.
The Big Q: Is coffee capable of making a Key place for itself in even the worst times?
Coffee entrepreneurs are also starting to launch Kickstarters for their new projects, after a near-total shutdown of such efforts during the month of March.
The virus chaos has shuttered all of Starbucks's (NASDAQ:SBUX) company own locations, 90% will reopen in June to take out and delivery, no sitting, sipping or conversing. Nevertheless the stock is recovering nicely in here and is a buy.
SBUX closed Wednesday at 76.86, off 1.83, all of our Key indicators are Very Bullish, Key support is at 74.13 and Key resistance is at 87.31, the target is 94.13.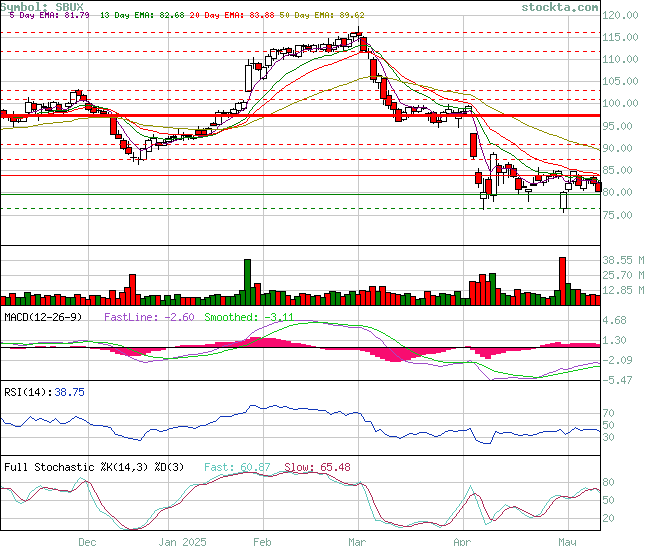 Have a healthy day, Keep the Faith!