#guns #SmithWesson #StrumRuger #cunsumers C19coronavirus #BLM #election #PresidentTrump #defundthepolice #antifa #FBI
Smith & Wesson, Sturm Ruger Rally as Consumers Rush to Buy Guns
US gun store owners say sales will continue to rise at least until the Presidential election in November. And financial analysts are ratcheting up their revenue estimates for gunmakers after the Quarterly sales gains.
Consumers are buying guns as the C-19 coronavirus chaos and ANTIFA led Black Lives Matter protests combine with US Presidential politics to drive the unprecedented demand.
Firearm background checks compiled by the FBI, a proxy for gun purchases, rose to a record in June as street demonstrations spread through Democratic run cities the US.
That buying extended a wave that began in March as the C-19 coronavirus brought on lockdowns across the country.
The boom is lifting the shares of gunmakers Smith & Wesson Brands Inc. (NASDAQ: SWBI) and Sturm Ruger & Co (NYSE:RGR).
Gun shop owners and Wall Street analysts predict new sales gains, especially if protests continue and Democratic Presidential challenger Joe Biden who supports more restrictions on firearms continues his run for the Oval Office.
Gun sales are typically higher in the year people go to the polls to elect a new President, particularly in the Fall as we get closer to the election, I believe we will see continued strong demand around the civil violence and the defund-the-police cries for July and August.
Smith & Wesson has more than 2X'd this year to 22.65 Wednesday the highest mark in nearly 3yrs. The consensus is 22/share
SW is also a Buy, as all Key technical indicators are Very Bullish across the board, the Key support is at 19.81, the resistance is lite at 30 and my target is 32/35 midterm.
Sturm Ruger has risen 62% its highest mark since Y 2016. We are rating RGR a Buy in here, as all of our technical indicators are Very Bullish, and the Support is Strong and deep and there is No resistance, the Northside in the mid-term is at 95 Vs it 52 wk high at 79.26 marked Wednesday, the consensus is at 80/share.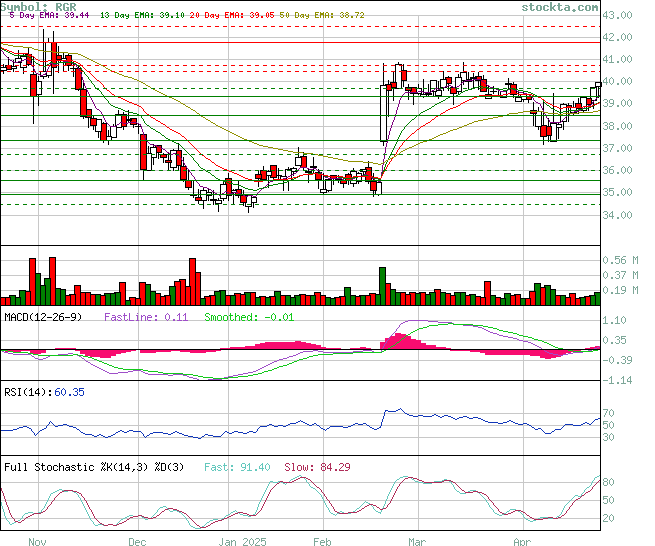 Have a Happy Star Spangled Weekend, Keep the Faith!
The following two tabs change content below.
Paul Ebeling
Paul A. Ebeling, a polymath, excels, in diverse fields of knowledge Including Pattern Recognition Analysis in Equities, Commodities and Foreign Exchange, and he is the author of "The Red Roadmaster's Technical Report on the US Major Market Indices, a highly regarded, weekly financial market commentary. He is a philosopher, issuing insights on a wide range of subjects to over a million cohorts. An international audience of opinion makers, business leaders, and global organizations recognize Ebeling as an expert.   
Latest posts by Paul Ebeling (see all)