Amazon.com, Inc. (NASDAQ:AMZN) just opened its biggest office building in the world
Amazon just opened its biggest office building in the world in the Indian city of Hyderabad.The online retail giant's new campus in the city's financial district opened on Wednesday. It covers 9.5 acres and has 1.8 million square feet of office space, making it "Amazon's single largest building in the world in terms of total area," according to the company.The building can accommodate up to 15,000 employees, nearly a quarter of Amazon's full-time India workforce of more than 62,000. The company also has 155,000 contract workers in the country, making India its biggest base outside the United States.The Hyderabad campus is the first office outside the United States that Amazon fully owns.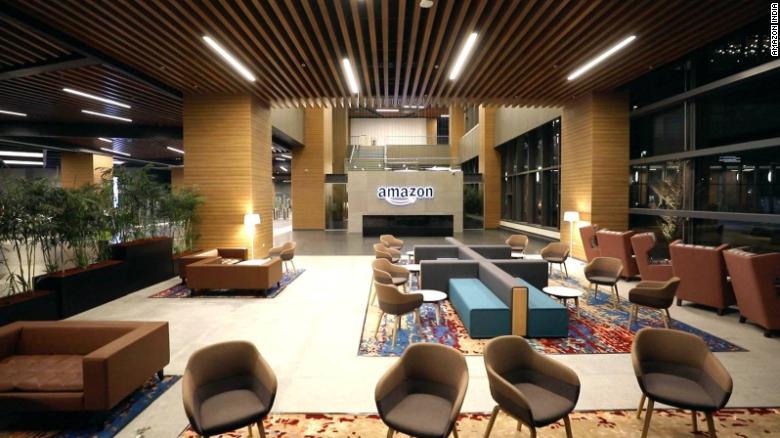 The new Amazon office buildings in Hyderabad can accommodate up to 15,000 employees.Amazon (AMZN) has poured billions of dollars into its India business in recent years. It is expanding its operations and reportedly looking for stakes in local retailers as it battles Walmartfor an e-commerce market that Morgan Stanley estimates will be worth $200 billion by 2027."This new Amazon campus building is a tangible commitment to that long-term thinking and our plans for India," Amit Agarwal, the company's India head, said in a statement.
The prize is huge. India has over 600 million internet users, but the majority of its population still isn't online. Amazon is trying to cash in on that potential by looking to expand its grocery business, creating more Indian content for its Prime Video streaming service and even making its mobile app available in India's most popular language, Hindi.
Technical Indicators
Overall, the bias in prices is: Downwards.
Note: this chart shows extraordinary price action to the downside.
By the way, prices are vulnerable to a correction towards 1,864.30.
The projected upper bound is: 1,873.96.
The projected lower bound is: 1,735.25.
The projected closing price is: 1,804.61.
Candlesticks
A black body occurred (because prices closed lower than they opened).
During the past 10 bars, there have been 2 white candles and 8 black candles for a net of 6 black candles. During the past 50 bars, there have been 23 white candles and 27 black candles for a net of 4 black candles.
An engulfing bearish line occurred (where a black candle's real body completely contains the previous white candle's real body). The engulfing bearish pattern is bearish during an uptrend. It then signifies that the momentum may be shifting from the bulls to the bears.
If the engulfing bearish pattern occurs during a downtrend (which appears to be the case with AMAZON COM), it may be a last engulfing bottom which indicates a bullish reversal. The test to see if this is the case is if the next candle closes above the bottom the current (black) candle's real body.
Momentum Indicators
Momentum is a general term used to describe the speed at which prices move over a given time period. Generally, changes in momentum tend to lead to changes in prices. This expert shows the current values of four popular momentum indicators.
Stochastic Oscillator
One method of interpreting the Stochastic Oscillator is looking for overbought areas (above 80) and oversold areas (below 20). The Stochastic Oscillator is 69.8858. This is not an overbought or oversold reading. The last signal was a buy 11 period(s) ago.
Relative Strength Index (RSI)
The RSI shows overbought (above 70) and oversold (below 30) areas. The current value of the RSI is 43.55. This is not a topping or bottoming area. A buy or sell signal is generated when the RSI moves out of an overbought/oversold area. The last signal was a buy 11 period(s) ago.
Commodity Channel Index (CCI)
The CCI shows overbought (above 100) and oversold (below -100) areas. The current value of the CCI is 54. This is not a topping or bottoming area. The last signal was a buy 10 period(s) ago.
MACD
The Moving Average Convergence/Divergence indicator (MACD) gives signals when it crosses its 9 period signal line. The last signal was a buy 3 period(s) ago.
Rex Takasugi – TD Profile
AMAZON COM closed down -17.940 at 1,805.600. Volume was 31% below average (neutral) and Bollinger Bands were 4% narrower than normal.
Open     High      Low     Close     Volume___

1,828.0001,829.4111,800.1001,805.600   2,658,388
Technical Outlook 

Short Term:          Neutral

Intermediate Term:   Bearish

Long Term:           Bullish
Moving Averages: 10-period     50-period     200-period

Close:          1,799.51       1,897.12       1,757.15

Volatility:           31             24             40

Volume:        3,106,889      3,368,506      4,911,682
Short-term traders should pay closer attention to buy/sell arrows while intermediate/long-term traders should place greater emphasis on the Bullish or Bearish trend reflected in the lower ribbon.
Summary
AMAZON COM is currently 2.8% above its 200-period moving average and is in an downward trend. Volatility is high as compared to the average volatility over the last 10 periods. Our volume indicators reflect volume flowing into and out of AMZN.O at a relatively equal pace (neutral). Our trend forecasting oscillators are currently bearish on AMZN.O and have had this outlook for the last 17 periods.
The following two tabs change content below.
HEFFX has become one of Asia's leading financial services companies with interests in Publishing, Private Equity, Capital Markets, Mining, Retail, Transport and Agriculture that span every continent of the world. Our clearing partners have unprecedented experience in Equities, Options, Forex and Commodities brokering, banking, physical metals dealing, floor brokering and trading.
Latest posts by HEFFX Australia (see all)