Altseason Unlikely Until Late-2019; Bitcoin: USD/BTC (BTC=X) to Outperform
For months now, investors on "Crypto Twitter" have been screaming for an altseason. After all, that's where many traders made their money in 2017's mania.
According to Adaptive Fund's Willy Woo, however, investors shouldn't be holding their breath for altcoins to outperform. In a recent three-part thread, the popular analyst explains that one of his indicators suggests that an altseason won't occur until at least the end of 2019, even the start of 2020.
As he explains, the signal — a bullish cross of the 365-day moving average of the altcoin market cap against Bitcoin — is still a ways off from coming to fruition.
This is one of my alt-season indicators. A bullish cross of the 365d moving avg of [alt-coin marketcap / BTCUSD]. It's crude and imperfect, but easy to pull up on TradingView. Alt-season is not guaranteed, if it happens I can't see it happening till end of 2019 / start of 2020.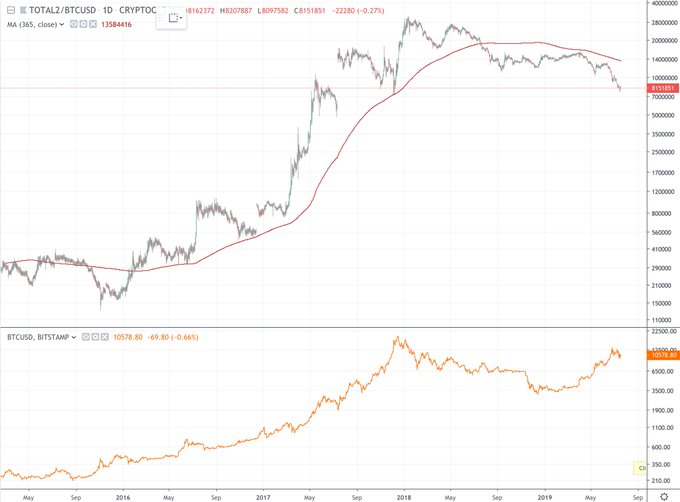 Citing his years of experience in this industry, Woo concludes by reminding his followers that in the long run, a majority of altcoins do not survive, no matter how much money the people running these projects throw into marketing and development. The only "altcoin" that he gave a nod to was Ethereum, which has managed to survive at least four years of market cycles and the rise of "competing" projects.
Your Alts Will Be Worthless
Woo isn't the only prominent analyst not exactly expecting altcoins to outpace the market leader anytime soon.
In a recent thread, Joe McCann, the chairman of Node Source and a leading investor, opined that all fundamentals and technicals signal that Bitcoin will be the cryptocurrency to beat for the foreseeable future.
1/ Per a recommendation I share, here are some thoughts on why trading anything but #bitcoin at this point is meaningless.

TL;DR – your alts are going to be worthless.
Out of his points, the most notable is that institutions investing directly into digital assets have kept their sights locked on Bitcoin, not XRP or even Ethereum.
Fidelity Investments' digital asset division is a case in point. The institution's cryptocurrency arm has only supported Bitcoin thus far, with the division's arm stating that it is wrestling with adding altcoins due to certain concerns.
You can see a similar trend with the cryptocurrency-focused financial vehicles already on the market, or those that are looking to come to market. Look no further than the incessant stream of crypto-backed exchange-traded fund (ETF) applications and the Bitcoin futures from the CME. Also, notice how Bakkt, who will be testing its first product starting this week, is only releasing Bitcoin futures.
With the cryptocurrency market evidently become one that is Bitcoin-first, it seems improbable that altcoins will begin to gain on the market leader.
Overall, the bias in prices is: Upwards.
The projected upper bound is: 12,463.83.
The projected lower bound is: 8,739.77.
The projected closing price is: 10,601.80.
Candlesticks
A white body occurred (because prices closed higher than they opened).
During the past 10 bars, there have been 5 white candles and 5 black candles. During the past 50 bars, there have been 32 white candles and 18 black candles for a net of 14 white candles.
A spinning top occurred (a spinning top is a candle with a small real body). Spinning tops identify a session in which there is little price action (as defined by the difference between the open and the close). During a rally or near new highs, a spinning top can be a sign that prices are losing momentum and the bulls may be in trouble.
Momentum Indicators
Momentum is a general term used to describe the speed at which prices move over a given time period. Generally, changes in momentum tend to lead to changes in prices. This expert shows the current values of four popular momentum indicators.
Stochastic Oscillator
One method of interpreting the Stochastic Oscillator is looking for overbought areas (above 80) and oversold areas (below 20). The Stochastic Oscillator is 79.5723. This is not an overbought or oversold reading. The last signal was a buy 8 period(s) ago.
Relative Strength Index (RSI)
The RSI shows overbought (above 70) and oversold (below 30) areas. The current value of the RSI is 49.04. This is not a topping or bottoming area. A buy or sell signal is generated when the RSI moves out of an overbought/oversold area. The last signal was a sell 25 period(s) ago.
Commodity Channel Index (CCI)
The CCI shows overbought (above 100) and oversold (below -100) areas. The current value of the CCI is -36. This is not a topping or bottoming area. The last signal was a buy 4 period(s) ago.
MACD
The Moving Average Convergence/Divergence indicator (MACD) gives signals when it crosses its 9 period signal line. The last signal was a sell 21 period(s) ago.
Rex Takasugi – TD Profile
FOREX BTC= closed up 68.570 at 10,560.570. Volume was 62% below average (consolidating) and Bollinger Bands were 12% wider than normal.
Open High Low Close Volume___
10,476.00010,690.56010,324.80010,560.570 33,840
Technical Outlook
Short Term: Neutral
Intermediate Term: Bearish
Long Term: Bullish
Moving Averages: 10-period     50-period     200-period

Close:         10,477.04      10,124.58       6,149.47

Volatility:          110            108             78

Volume:           91,094         91,882         79,428
Short-term traders should pay closer attention to buy/sell arrows while intermediate/long-term traders should place greater emphasis on the Bullish or Bearish trend reflected in the lower ribbon.
Summary
FOREX BTC= is currently 71.7% above its 200-period moving average and is in an downward trend. Volatility is extremely low when compared to the average volatility over the last 10 periods. There is a good possibility that there will be an increase in volatility along with sharp price fluctuations in the near future. Our volume indicators reflect volume flowing into and out of BTC= at a relatively equal pace (neutral). Our trend forecasting oscillators are currently bearish on BTC= and have had this outlook for the last 6 periods.