Alphabet Inc. (NASDAQ:GOOG) cloud business alone is now worth $225 billion
Alphabet Inc.'s cloud business alone is now worth $225 billion, Deutsche Bank analysts led by Lloyd Walmsley wrote in a note.
The unit could report compound annual growth of 55% between 2018 and 2022, and reach annual sales of about $38 billion by 2025, the analysts wrote.
"While Google Cloud has been lagging behind in the market and burning money historically, with increased confidence in the go-to-market and commercial traction under Mr. Kurian, we think it can grow market share," they wrote. Former Oracle Corp. executive Thomas Kurian was named head of the division in November.
The value ascribed by Deutsche Bank to Google Cloud is nearly twice the market value of IBM, which reported cloud revenue of $19.2 billion in 2018, at the close of trading on Wednesday, Bloomberg data show.
Deutsche Bank, which has a buy rating on Alphabet, raised its price target on the company to $1,600 a share, higher than any of the 45 analysts surveyed by Bloomberg. Alphabet shares were up 0.2% to $1,180 a share in pre-market trading.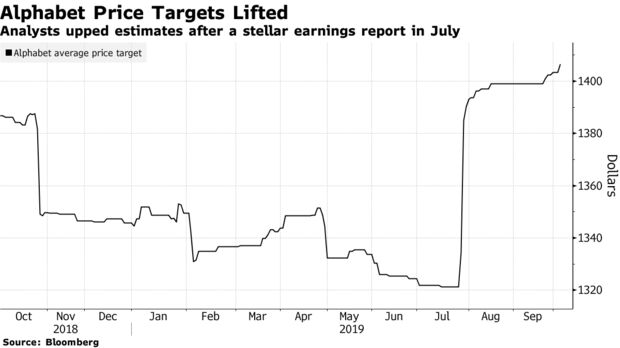 Technical Indicators
Overall, the bias in prices is: Sideways.
The projected upper bound is: 1,259.17.
The projected lower bound is: 1,118.49.
The projected closing price is: 1,188.83.
Candlesticks
A white body occurred (because prices closed higher than they opened).
During the past 10 bars, there have been 3 white candles and 7 black candles for a net of 4 black candles. During the past 50 bars, there have been 23 white candles and 27 black candles for a net of 4 black candles.
Momentum Indicators
Momentum is a general term used to describe the speed at which prices move over a given time period. Generally, changes in momentum tend to lead to changes in prices. This expert shows the current values of four popular momentum indicators.
Stochastic Oscillator
One method of interpreting the Stochastic Oscillator is looking for overbought areas (above 80) and oversold areas (below 20). The Stochastic Oscillator is 16.1283. This is an oversold reading. However, a signal is not generated until the Oscillator crosses above 20 The last signal was a sell 11 period(s) ago.
Relative Strength Index (RSI)
The RSI shows overbought (above 70) and oversold (below 30) areas. The current value of the RSI is 43.46. This is not a topping or bottoming area. A buy or sell signal is generated when the RSI moves out of an overbought/oversold area. The last signal was a sell 46 period(s) ago.
Commodity Channel Index (CCI)
The CCI shows overbought (above 100) and oversold (below -100) areas. The current value of the CCI is -208.This is an oversold reading. However, a signal isn't generated until the indicator crosses above -100. The last signal was a sell 12 period(s) ago.
MACD
The Moving Average Convergence/Divergence indicator (MACD) gives signals when it crosses its 9 period signal line. The last signal was a sell 7 period(s) ago.
Rex Takasugi – TD Profile
ALPHABET INC C closed up 11.200 at 1,187.830. Volume was 14% above average (neutral) and Bollinger Bands were 33% narrower than normal.
Open     High      Low     Close     Volume___

1,180.0001,189.0601,162.4301,187.830   1,663,656
Technical Outlook 

Short Term:          Oversold

Intermediate Term:   Bullish

Long Term:           Bullish
Moving Averages: 10-period     50-period     200-period

Close:          1,218.43       1,200.50       1,148.11

Volatility:           24             38             33

Volume:        1,559,535      1,464,368      1,506,332
Short-term traders should pay closer attention to buy/sell arrows while intermediate/long-term traders should place greater emphasis on the Bullish or Bearish trend reflected in the lower ribbon.
Summary
ALPHABET INC C is currently 3.5% above its 200-period moving average and is in an upward trend. Volatility is relatively normal as compared to the average volatility over the last 10 periods. Our volume indicators reflect volume flowing into and out of GOOG.O at a relatively equal pace (neutral). Our trend forecasting oscillators are currently bullish on GOOG.O and have had this outlook for the last 18 periods.
The following two tabs change content below.
HEFFX has become one of Asia's leading financial services companies with interests in Publishing, Private Equity, Capital Markets, Mining, Retail, Transport and Agriculture that span every continent of the world. Our clearing partners have unprecedented experience in Equities, Options, Forex and Commodities brokering, banking, physical metals dealing, floor brokering and trading.
Latest posts by HEFFX Australia (see all)