Alibaba Group Holding Limited (NYSE:BABA) raised over $13 Bn with its IPO in Hong Kong
Investment Thesis
China's E-commerce giant Alibaba (NYSE: BABA) listed on HKSE on Nov. 26. It is more of a political move however, with little economic justification, since we find the funds BABA raised from this IPO will add pressure to BABA's future profit margins.
BABA's Hong Kong IPO: Why Now?
BABA's HK listing marks the completion of its "dual-listing" structure, that the company is now traded both in New York and Hong Kong with a 1:8 shares conversion ratio. Despite BABA downsized the deal from up to $20 Bn in the original plan of this deal, it still raised more than $13 Bn from this offering. However, when we looked carefully into the deal, we realized that it was more of a political move instead of being driven by economic rationale:
First of all, BABA is never short for liquidity. As released in its Q3 earnings results, BABA has over $33 Bn in cash & short-term investments. In fact, their cash position has been growing steadily over the past quarters: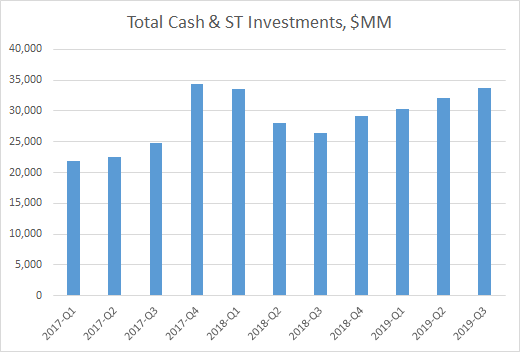 Second, it's probably the worst time to list in Hong Kong. The year-long democracy protest in Hong Kong has essentially "worn out" the city that used to be the most energetic economy in Asia. Hong Kong is said to have entered "recession" and the investment willingness in the city has been hammered due to the poor outlook. This is partly the reason why BABA had to shrink the deal from $20 Bn to less than $15 Bn.
So why did they do it then? The reasonable explanation is that Beijing wants to show (people in China and the rest of the world) that it is still "business as usual" in Hong Kong. So, as the most iconic economic representative of China, BABA has no choice but to do it now.
What we may have missed
One thing we may have missed, is the political gain from this listing. The HK listing not only shows that BABA is a "trust-worthy" company that Beijing can rely on during difficult times. More importantly, it shows that BABA is willing to sacrifice for "bigger picture", which is the key to establish itself as "the company" in China. The political gain from this listing is intangible, but certainly shouldn't be missed here.
Conclusion
We find the HK listing more of a political move for BABA instead of an economic one. The additional funds it raised will more likely add pressure to its already declining profit margins.
Technical Indicators
Overall, the bias in prices is: Upwards.
Note: this chart shows extraordinary price action to the upside.
By the way, prices are vulnerable to a correction towards 183.60.
The projected upper bound is: 214.63.
The projected lower bound is: 196.23.
The projected closing price is: 205.43.
Candlesticks
A white body occurred (because prices closed higher than they opened).
During the past 10 bars, there have been 6 white candles and 4 black candles for a net of 2 white candles. During the past 50 bars, there have been 27 white candles and 22 black candles for a net of 5 white candles.
Momentum Indicators
Momentum is a general term used to describe the speed at which prices move over a given time period. Generally, changes in momentum tend to lead to changes in prices. This expert shows the current values of four popular momentum indicators.
Stochastic Oscillator
One method of interpreting the Stochastic Oscillator is looking for overbought areas (above 80) and oversold areas (below 20). The Stochastic Oscillator is 75.7425. This is not an overbought or oversold reading. The last signal was a sell 1 period(s) ago.
Relative Strength Index (RSI)
The RSI shows overbought (above 70) and oversold (below 30) areas. The current value of the RSI is 68.93. This is not a topping or bottoming area. A buy or sell signal is generated when the RSI moves out of an overbought/oversold area. The last signal was a sell 7 period(s) ago.
Commodity Channel Index (CCI)
The CCI shows overbought (above 100) and oversold (below -100) areas. The current value of the CCI is 105.This is an overbought reading. However, a signal isn't generated until the indicator crosses below 100. The last signal was a sell 2 period(s) ago.
MACD
The Moving Average Convergence/Divergence indicator (MACD) gives signals when it crosses its 9 period signal line. The last signal was a buy 10 period(s) ago.
Rex Takasugi – TD Profile
ALIBABA GRP ADR closed up 4.190 at 204.640. Volume was 6% below average (neutral) and Bollinger Bands were 32% wider than normal.
Open     High      Low     Close     Volume___

201.000  204.790  200.800  204.640   3,048,598
Technical Outlook 

Short Term:          Overbought

Intermediate Term:   Bullish

Long Term:           Bullish
Moving Averages: 10-period     50-period     200-period

Close:            199.15         182.01         175.57

Volatility:           33             33             36

Volume:        4,039,496      3,633,282      3,430,443
Short-term traders should pay closer attention to buy/sell arrows while intermediate/long-term traders should place greater emphasis on the Bullish or Bearish trend reflected in the lower ribbon.
Summary
ALIBABA GRP ADR is currently 16.6% above its 200-period moving average and is in an upward trend. Volatility is extremely high when compared to the average volatility over the last 10 periods. There is a good possibility that volatility will decrease and prices will stabilize in the near term. Our volume indicators reflect moderate flows of volume into BABA.N (mildly bullish). Our trend forecasting oscillators are currently bullish on BABA.N and have had this outlook for the last 30 periods. The security price has set a new 14-period high while our momentum oscillator has not. This is a bearish divergence.
The following two tabs change content below.
HEFFX has become one of Asia's leading financial services companies with interests in Publishing, Private Equity, Capital Markets, Mining, Retail, Transport and Agriculture that span every continent of the world. Our clearing partners have unprecedented experience in Equities, Options, Forex and Commodities brokering, banking, physical metals dealing, floor brokering and trading.