Alibaba Group Holding Limited (NYSE:BABA) is proving resilient to China's economic slowdown
In the last month since the coronavirus from China emerged, China-based stocks have not faced that much selling pressure. Alibaba (NYSE:BABA) stock is holding up well. Investors are speculating that the lockdown in several of the country's biggest cities will lead to a surge in online sales.
As a leading e-commerce firm, Alibaba stock should reward investors over the long haul. This bullish view comes despite the company outlining the impact of the coronavirus outbreak during its earnings call.
Alibaba reported revenue growing an impressive 38% year-over-year. Its cloud unit saw 62% year-over-year growth. And in the consumer space, the company had 824 million mobile monthly active users and 711 million annual active customers.
Generating $11.2 billion in non-GAAP free cash flow will justify the current level of the Alibaba stock price. Besides, China's hard-hit Hubei province is reporting lower daily infection counts. The control of its spread suggests that the country may cautiously re-start operations.
As China returns to its daily activity, Alibaba is in a good position to capture more market share. People will avoid public places and areas where there are crowds. This may give Alibaba's retail revenue a strong lift.
Conversely, if people stay at home, Alibaba's digital media and entertainment unit, which generated $1.1 billion in revenue, may grow at a faster pace. It grew 14% year-over-year in the last quarter.
Valuation on Alibaba Stock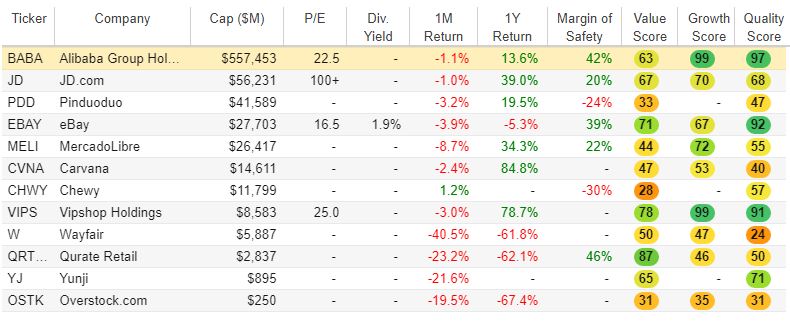 Source: Table courtesy of Stock Rover
Alibaba has a fair value of $295.29, according to Stock Rover. Conversely, do-it-yourself investors may reasonably forecast revenue growth slowing to the low single digits a decade from now. In that scenario, Alibaba stock has a fair value of $240.
Alibaba stock's value is average, on a price-earnings and price-sales measure. But the company's strong growth prospects continue to impress investors. This is a quality company with a strong net and gross margin.
For now, chances appear low that Alibaba stock will fall. At current levels, the stock is a reasonable buy for the investor with a long-term time horizon.
Technical Indicators
Overall, the bias in prices is: Upwards.
The projected upper bound is: 223.13.
The projected lower bound is: 199.76.
The projected closing price is: 211.44.
Candlesticks

A white body occurred (because prices closed higher than they opened).
During the past 10 bars, there have been 7 white candles and 3 black candles for a net of 4 white candles. During the past 50 bars, there have been 29 white candles and 21 black candles for a net of 8 white candles.
Momentum Indicators

Momentum is a general term used to describe the speed at which prices move over a given time period. Generally, changes in momentum tend to lead to changes in prices. This expert shows the current values of four popular momentum indicators.
Stochastic Oscillator
One method of interpreting the Stochastic Oscillator is looking for overbought areas (above 80) and oversold areas (below 20). The Stochastic Oscillator is 77.6843. This is not an overbought or oversold reading. The last signal was a sell 0 period(s) ago.
Relative Strength Index (RSI)
The RSI shows overbought (above 70) and oversold (below 30) areas. The current value of the RSI is 48.12. This is not a topping or bottoming area. A buy or sell signal is generated when the RSI moves out of an overbought/oversold area. The last signal was a sell 34 period(s) ago.
Commodity Channel Index (CCI)
The CCI shows overbought (above 100) and oversold (below -100) areas. The current value of the CCI is 2. This is not a topping or bottoming area. The last signal was a buy 3 period(s) ago.
MACD
The Moving Average Convergence/Divergence indicator (MACD) gives signals when it crosses its 9 period signal line. The last signal was a sell 9 period(s) ago.
Rex Takasugi – TD Profile

ALIBABA GRP ADR closed down -0.500 at 211.460. Volume was 9% below average (neutral) and Bollinger Bands were 2% wider than normal.
Open     High      Low     Close     Volume___

210.000  215.130  209.195  211.460   3,539,445
Technical Outlook 

Short Term:          Neutral

Intermediate Term:   Bearish

Long Term:           Bullish
Moving Averages: 10-period     50-period     200-period

Close:            208.79         216.28         185.04

Volatility:           34             34             35

Volume:        5,108,302      3,392,014      3,586,833
Short-term traders should pay closer attention to buy/sell arrows while intermediate/long-term traders should place greater emphasis on the Bullish or Bearish trend reflected in the lower ribbon.
Summary
ALIBABA GRP ADR is currently 14.3% above its 200-period moving average and is in an downward trend. Volatility is extremely low when compared to the average volatility over the last 10 periods. There is a good possibility that there will be an increase in volatility along with sharp price fluctuations in the near future. Our volume indicators reflect volume flowing into and out of BABA.N at a relatively equal pace (neutral). Our trend forecasting oscillators are currently bearish on BABA.N and have had this outlook for the last 27 periods.
The following two tabs change content below.
HEFFX has become one of Asia's leading financial services companies with interests in Publishing, Private Equity, Capital Markets, Mining, Retail, Transport and Agriculture that span every continent of the world. Our clearing partners have unprecedented experience in Equities, Options, Forex and Commodities brokering, banking, physical metals dealing, floor brokering and trading.