The Premier Resort and Spa Cebu, Philippines
Plantation Bay Resort is sprawled over 11.4 hectares in Marigondon, Mactan where the beach is white sand and the water crystal-clear and blue. It is in Cebu, one of the most dynamic urban areas in the Philippines with the most ethnic diversity. It boasts of cottages of colonial-plantation architecture scattered around a number of artificial lagoons.
Plantation Bay Resort & Spa
Whether you're looking for romance, relaxation, or family fun, Plantation Bay has something for you.
Discover a resort in a class of its own. Set in 11.4 hectares of secluded grounds yet only 30 minutes from Cebu City, Plantation Bay offers one of the largest privately-owned waterways in the world, with the clean elegance of colonial-plantation architecture. Decompress from life's pressures in the healing tranquility of an environment that truly feels "away from it all." If you have ever spent time at a tropical plantation, you know what we mean. If not, come and discover a refreshingly different Flavor of Life.
Whether you're traveling for a family vacation or romantic getaway, for business or pleasure, this is far and away your best choice in the Philippines.
Feel like you're at your own private estate. Our rooms are a full 46 square meters, charmingly furnished with plantation-style furniture, oil paintings, and accessories; equipped with remote-
control TV, mini-bar, electronic safe, and split-package air-conditioning.

Interested in Investing in Hotels Asia?
Linda Johnson,
Business Development Director – Private Client Group,
Heffernan Capital Management
Sales@Heffcap.com
Singapore
3 Raffles Place #07-01
Bharat Building Singapore 048617
Tel: +65 6329 6408
Fax: +65 6329 9699
And you'll love the bathrooms – spacious, with coral stone and marble finishes, separate shower and deep tub, hair-dryer, and extension phone.
Unrivaled cuisine. In the area of food, most resorts under-perform and overcharge. At Plantation Bay we believe good food is an essential component of good hospitality, and work hard to offer our guests a stimulating choice of international dishes.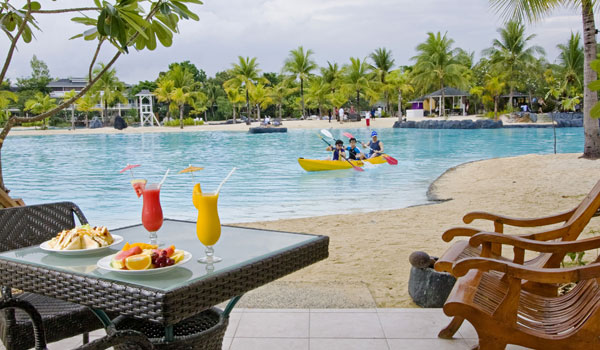 Safety and Security, Protection from Natural Disasters. Due to its unique geology and location in the inland Philippine Sea, totally surrounded by much larger islands, Cebu-Mactan is safer than most other resort areas in the world.
At some hotels, there are a token few rooms with nice views (for the brochures!), while most guests get stuck with parking lot or "garden" views. At Plantation Bay you are assured of a splendid, take-your-breath-away vista from almost every room. (Rooms with impaired views are priced lower and clearly indicated on the Rooms and Reservations page.)
The most-acclaimed resort in the country is also the foremost Philippine spa. Plantation Bay's Mogambo Springs offers an ambience and treatment experience comparable to those of leading spas in Bali, Thailand, or California, at a fraction of the price. Mogambo Springs was listed one of the top 7 spa destinations in the Philippines by Asia Spa Magazine in 2010.

There is NO TIPPING at Plantation Bay. All our guests receive the highest standard of personal attention without ever having to worry when, whom, or how much to tip. If you've never been in a No-Tipping resort, you just don't know what you're missing. Why not find out?
Heffernan Capital Management
Linda Johnson,
Business Development Director – Private Client Group,
Sales@Heffcap.com
Singapore
3 Raffles Place #07-01
Bharat Building Singapore 048617
Tel: +65 6329 6408
Fax: +65 6329 9699
Shayne Heffernan Ph.D.
Economist/Hedge Fund Manager
Shayne Heffernan oversees the management of funds for institutions and high net worth individuals. He is also an active consultant working with Corporations around the World.
He is recognized as one of the leading Economists in South East Asia, as well as the preeminent authority on ASEAN. His opinions and forecasts are widely read by decision makers in the region and Internationally.
Shayne Heffernan holds a Ph.D. in Economics and brings with him over 25 years of trading experience in Asia and hands on experience in Venture Capital, he has been involved in several start ups that have seen market capitalization over $500m and 1 that reached a peak of $15b. He has managed and overseen start ups in Mining, Shipping, Technology and Financial Services.
Member
Chinese Society of Economists
American Economic Society
USD/ZAR South African Rand Outlook
USD/ZAR South African Rand Outlook
Shayne Heffernan takes a look at the USD/ZAR
USD/ZAR closed above the upper band by 10.6%. Although prices have broken the upper band and an upside breakout is possible, the most likely scenario is for the current …
Commentary
Investor Services
Best Hedge Funds 2013
Best Hedge Funds 2013
Working with some of the World's largest financial institutions HCM's goal is to provide portfolio returns that exceed the S&P 500 Index benchmark while …
UAE Economy Seeing a Spring Boom
UAE Economy Seeing a Spring Boom
HBC
Driven by stable high Crude Oil prices, tourism, diversification and a liberal trade policy, the United Arab Emirates (UAE) witnesses an unprecedented …
Pitooey! Inc (OTCBB:PTOO) Trade Alert
Pitooey! Inc (OTCBB:PTOO) Trade Alert
PTOO looks set to extend the rally today, $2 is in sight here.
Commodity Channel Index (CCI)
The CCI shows overbought (above 100) and oversold …
The Hot List
Hot Stocks EVSV, MJNA
Enviro-Serv Inc (OTCMKTS:EVSV), Medical Marijuana Inc (OTCMKTS:MJNA)
Enviro-Serv Inc (OTCMKTS:EVSV)
EVSV had a stellar dy yesterday, ut it looks like it is just the begining of big things, good …