Price Of Bacon At All Time High
Price Of Bacon At All Time High
According to the US Bureau of Labor Statistics, the average price of Bacon in American cities rose another 0.06 in June, to an all-time high at 6.11 lb.
That is a 14%  increase since June 2013 and 41% more than it cost in June 2012, when people were already talking about how pricey Bacon was getting.
Below is  a graph illustrating the dramatic rise in Bacon prices since June 1980.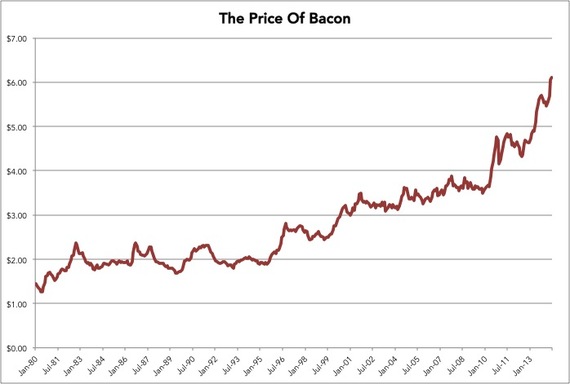 For what a consumer will spend for a pound of Bacon today, he/she could buy a whole 4 lb Chicken, 10 lbs of Bananas, or 3 doz Eggs
Inflation means prices rise, but the price of Bacon goes past inflationwhich the US Fed pegs at just under 2%.
To see just how dramatically below is a chart that shows the adjusted monthly average price of Bacon for inflation, using PCE deflator, the Fed's preferred measure of inflation.
As you can see Bacon prices have have surpassed prior all-time highs, even after accounting for inflation.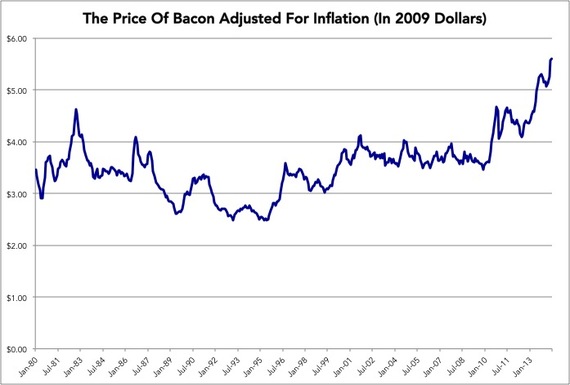 After adjusting for inflation, Bacon is now 21%  more expensive than it was at its 1980s peak in September 1982.
There are 3 Key  factors account for the latest price rise.
1. A virulent disease, porcine epidemic diarrhea virus, has been piglets for almost a year, drastically reducing the stock of livestock available for making Bacon
2. The demand keeps rising.
3. An ongoing drought across much of the US.
Added to that, Bacon is not  the only breakfast staple getting more expensive, plant diseases also have increased the price of OJ, and Coffee in recent months.
Stay tuned…
HeffX-LTN
Paul Ebeling
The following two tabs change content below.
Pattern Recognition Analyst, equities, commodities, forex
Paul Ebeling is best known for his work as writer and publisher of "The Red Roadmaster's Technical Report" on the US Major Market Indices™, a highly-regarded, weekly financial market letter, where he enjoys an international audience among opinion makers, business leaders, and respected organizations. Something of a pioneer in online stock market and commodities discussion and analysis, Ebeling has been online since 1994. He has studied and worked in the global financial and stock markets since 1984.
Latest posts by Paul Ebeling (see all)
Trade FX, Equities and Options with the World's Leading Platform , call our trade desk 631 482 0376, or contact us to get started.