Luxury News: The Champagne Guide
Luxury News: The Champagne Guide
Champagne is composed from base wines made from grapes specifically chosen for lower alcohol content and high acidity. This base wine is given a booster shot of sugar and yeast, then bottled for a 2nd round of fermentation.
It is this secondary fermentation that yields the bubbles so celebrated in Champagne. You will notice that the bottles appear heavier than those used to house other wines: this is to create the pressure required for the "pop" when the cap is uncorked.
Champagnes made just from Chardonnay are called blanc de blancs, whereas an all-red made from Pinot Noir and Pinot Meunier is called a blanc de noir.
Blanc de noirs are generally as pale as their blanc de blanc counterparts because the juice is culled before the crushed grape skins can imbue the wine with color.
Most Champagnes are colorless blends of white and reds, a category not given any specific name.
A rosé gets its rosy hue from the addition of still red wine or by allowing the Pinot skins to steep in the juice to bestow flavor and color. Rosés are generally more time-consuming and costly to produce, which means they sell at a higher prices.
Treat Champagne as the great wine it is, it is not a frivolous drink.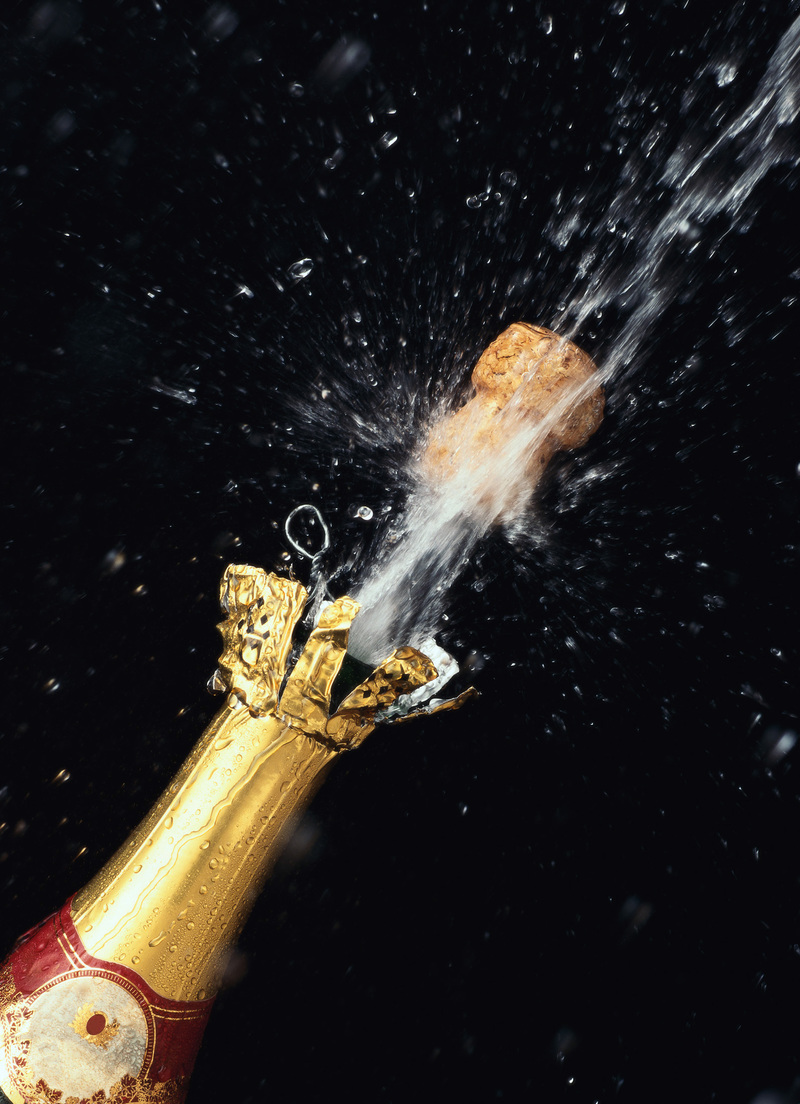 Below is some good stuff to know about this luxurious Vino when clinking a flute of fine Champagne with your loved ones.
Only sparkling wines produced in Champagne, France can be marketed and sold as Champagne, capitalized to denote its provenance and to differentiate it from sparkling wine created in other regions.
While 7 grape varieties can be used, most Champagne wines are created singly or from a combination of 3 grapes: 1 white, Chardonnay, and 2 reds Pinot Noir and Pinot Meunier.
According to Champagne appellation, a cuvée is the 1st 2,050 liters of juice siphoned off 4,000 kg of grapes.
Most Champagne producers pride themselves on using only the cuvée for their wines.
Cuvées are assigned different labels according to their relative dryness or sweetness; extra brut, brut, extra-sec, demi-sec and doux, which indicate the driest to sweetest types, respectively.
Cuvées de Prestige are the proprietary blended wines that are the front row stars of a Champagne house.
Examples; Dom Pérignon from Moët & Chandon and Palme d'Or from Nicolas Feuillatte.
A vintage wine is derived from grapes picked during that particular year. Most entry-level Champagne are non-vintage: mature wines are blended with younger wine in precisely calibrated formulations to produce consistent house style and flavor.
Vintage Champagnes age well and increase in depth and complexity over time: The current vintage is Y 2002.
There might be a few 1996s left, which was a very good year. If you find a bottle, buy it as an investment and store it for 20 yrs. All you require will be the right occasion and the right people with which to share your vintage
Do your research and ensure you buy from a good year. Future vintages to look out for are Ys 2005, 2007 and 2008.
2004 is universally considered an exceptional year. Moët & Chandon has just released its Grand Vintage 2004, which Moët oenologue Elise Losfelt describes as being "emotional, subtle and delightfully graceful in character.
Some non-vintage and vintage Champagnes are given house names to indicate style and price point. Moët & Chandon's Imperial, for instance, is considered an entry-level wine.
While Champagnes vary according to cuvée and age, vintners have identified distinctive aesthetics that the big houses have cultivated for themselves.
Generally speaking, Bollinger produces wines that are rich with a creamy finish; a flute of Krug often holds nutty or toasty notes; Moët & Chandon takes particular pride in the crisp freshness of its wines; and Perrier-Jouët offers Champagnes that are relatively light and floral.
And, when you drink Champagne surround yourself with those that appreciate the "bubbly' as you uncork the power of knowledge with a flute in hand.
Heffernan Capital Management
Linda Johnson,
Business Development Director – Private Client Group,
Sales@Heffcap.com
Singapore
3 Raffles Place #07-01
Bharat Building Singapore 048617
Tel: +65 6329 6408
Fax: +65 6329 9699
Paul A. Ebeling, Jnr.
Paul A. Ebeling, Jnr. writes and publishes The Red Roadmaster's Technical Report on the US Major Market Indices, a weekly, highly-regarded financial market letter, read by opinion makers, business leaders and organizations around the world.
Paul A. Ebeling, Jnr has studied the global financial and stock markets since 1984, following a successful business career that included investment banking, and market and business analysis. He is a specialist in equities/commodities, and an accomplished chart reader who advises technicians with regard to Major Indices Resistance/Support Levels.
Gossip in Hollywood
on Nov 25th, 2012and filed under
Connoisseur's Club
,
Europe
,
European Companies
,
Fine Dining
,
Food & Beverage
,
Latest News
,
Lifestyles of the Rich and Famous
,
Wealth
,
Wine, Spirits & Cigars
.You can follow any responses to this entry through the
RSS 2.0
You can skip to the end and leave a response. Pinging is currently not allowed.
USD/ZAR South African Rand Outlook
USD/ZAR South African Rand Outlook
Shayne Heffernan takes a look at the USD/ZAR
USD/ZAR closed above the upper band by 10.6%. Although prices have broken the upper band and an upside breakout is possible, the most likely scenario is for the current …
Commentary
Investor Services
Best Hedge Funds 2013
Best Hedge Funds 2013
Working with some of the World's largest financial institutions HCM's goal is to provide portfolio returns that exceed the S&P 500 Index benchmark while …
UAE Economy Seeing a Spring Boom
UAE Economy Seeing a Spring Boom
HBC
Driven by stable high Crude Oil prices, tourism, diversification and a liberal trade policy, the United Arab Emirates (UAE) witnesses an unprecedented …
ASEAN Stock Exchange Preview
Singapore
The FTSE Straits Times Index (STI) ended +4.93 points higher or +0.14% higher to 3,454.23, taking the year-to-date performance to +9.07%.
The FTSE ST Mid Cap Index gained …
The Hot List
Hot Stocks EVSV, MJNA
Enviro-Serv Inc (OTCMKTS:EVSV), Medical Marijuana Inc (OTCMKTS:MJNA)
Enviro-Serv Inc (OTCMKTS:EVSV)
EVSV had a stellar dy yesterday, ut it looks like it is just the begining of big things, good …